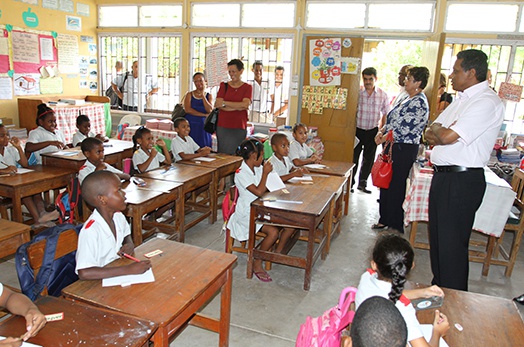 President Faure Visits Community Services on La Digue
Tue, 08 November 2016
President Faure visited La Digue for the first time since his inauguration yesterday afternoon with a delegation.
President Faure was accompanied on his visit by Vice President Mr. Vincent Meriton, Designated Minister and Minister for Local Government, Mrs. Macsuzy Mondon, Minister for Health and Social Affairs, Mr. Jean-Paul Adam, Member of National Assembly for Inner Islands, Hon. Mrs. Noline Sophola, and other senior government officials.
During the tour of the island, President Faure had the opportunity to interact and hold brief discussions with various members of the La Digue community.
The visit began at La Digue School at Anse Reunion followed by an Elderly Home at L'Union. Whilst at L'Union, the President could view first hand the work and development being undertaken at the La Digue Solid Waste Dumping Site.
President Faure also made stops at other key locations such as the Logan Hospital at La Passe and the Police Station, and obtained a brief tour at two private businesses which included a bakery and a pharmacy.
Speaking to the media after the tour, President Faure stressed that the inner islands and outer islands form part of Seychelles and that there is a need to ensure that their status and integration is elevated higher.  The President described La Digue as one of Seychelles' Jewels; despite the various pressures of modernisation, La Digue remains as an example of the Creole values and cultures.
"La Digue is extremely special for Seychelles, and it is one of our many islands where we see very strong traditional, cultural and human values of solidarity still reign. These values are very important aspects of our Seychellois society that we need to adopt in order to move Seychelles forward," said President Faure.
President Faure further stressed that there is a need to strike a balance between modernisation and preservation of Creole traditions in order to keep such values alive for future generations.
Also present at the visit was the Secretary of State for Presidential Affairs, Mrs. Aude Labaleine, Chief of Presidential Protocol, Mrs. Jaqueline Moustache-Belle, Principal Secretary for Vice President's Office, Mr. Allain Volcere, and the Special Advisor for Local Government, Mr. Daniel Frichot.