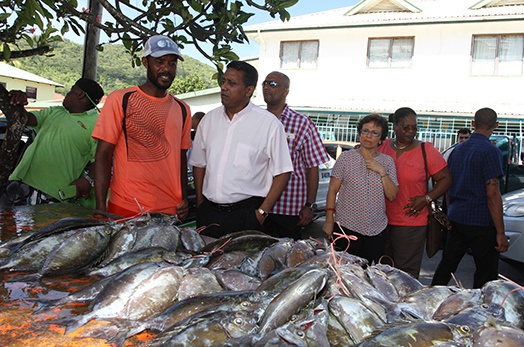 President Faure Emphasises New Work Ethics to Ameliorate Local Community During Visit to Praslin
Sun, 13 November 2016
The President of the Republic, President Danny Faure, led a delegation of high government officials on a visit to Praslin yesterday. During his tour of the island, President Faure also held meetings with community leaders of the two districts located on Praslin, Baie Ste Anne and Grand Anse.
The Presidential delegation was welcomed at Baie Ste Anne Jetty by Vice President, Mr Vincent Meriton, Designated Minister, Mrs Macsuzy Mondon, Member of National Assembly for Baie Ste Anne, Hon. Churchill Gill, Member of National Assembly for Grand Anse Praslin, Hon. Wavel Woodcock, and the Pier Master for Baie Ste Anne Jetty, Mr Garry Ernesta.
President Faure had the opportunity to view the jetty firsthand before heading to Ah-Yune's shop; where he interacted with the local community as the delegation made their way to Baie Ste Anne community centre.
The meetings at Baie Ste Anne and Grand Anse community centres in the morning and afternoon respectively, allowed representatives from various sectors of the community, such as youth, police, and health, to share the issues affecting their communities and potential solutions to address the problems.
The meetings with the district community leaders are the second and third meetings, the first being in Anse Etoile last week, in a series of dialogue sessions serving as a platform to promote greater exchange between key partners in the community. It is also an avenue for the President to personally share his message of the new work ethic that is required to bring about greater positive change in the communities.
"The ground we stand on unites us. If we put the interest of Seychelles before anything else, we will reach our incredible potential. Politics of the past have created a division in our society. The time has come for us to recognise that if we want to move forward we need to be united, and we need to understand one another. The best way is for us to work together, to remove mistrust and for us to build around a common agenda for the people of Seychelles and our communities," said President Faure.
President Faure stressed the importance of district administrators and MNAs remembering that they serve the people first and foremost, and that much more can be accomplished by putting the interest of Seychelles first. "For the love for our country, we need to have more tolerance, a greater sense of unity, greater space for participation of all actors and all sectors, and remember that we in government we remain servants of the people. We must treat our citizens with fairness and justice in the name of this," said President Faure.
Speaking to the press after the visits and meetings, President Faure expressed his appreciation in seeing that the Praslin Community leaders have already started working together, and that they serve as a good example to everyone. "It is going to be a long walk, but one that we need to have with a solid foot as we take the steps forward. I have hope in the Seychellois people and I have greater hope for Seychelles," said President Faure.
Despite a tight all-day schedule, following the meeting at the Grand Anse community centre, President Faure and his delegation attended a first division football match at Praslin Stade Amitié between Côte d'Or and St Louis. Also present for the visit to Praslin was Secretary of State for Presidential Affairs, Mrs Aude Labaleine, Chief of Protocol for Presidential Affairs, Mrs Jaqueline Moustache-Belle, Deputy Chief of Protocol and Presidential Affairs, Mr Larrey Chetty, Principal Secretary for Vice President's Office, Mr Alain Volcere, Principal Secretary for Local Government, Ms Marie-Celine Vidot, and Special Advisor for Social Affairs, Mr Daniel Frichot.