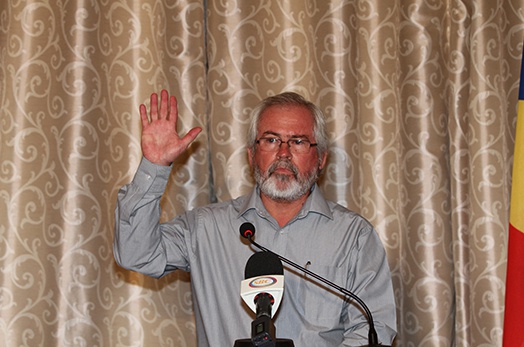 Minister Loustau-Lalanne sworn into office
Fri, 30 December 2016
The new Minister for Tourism, Civil Aviation, Ports and Marine, Mr Maurice Loustau-Lalanne was sworn into office during a ceremony held at State House this morning in the presence of the President of the Republic.
Also present at the auspicious ceremony was the Vice-President, Mr Vincent Meriton, President of the Court of Appeal, Justice Francis MacGregor, Acting Chief Justice, Judge Bernardin Renaud, Members of Cabinet, Attorney General, Mr. Ronny Govinden and other distinguished guests including members of Minister Loustau-Lalanne's family and senior officials in the Office of the President.
During the ceremony, Minister Loustau-Lalanne took the Oath of Allegiance to the Constitution, the Oath of Office and the Oath of Secrecy.
Minister Lalanne's nomination was announced by President Faure on Wednesday 28th December 2016 and approved by the National Assembly on Thursday 29th December 2019.