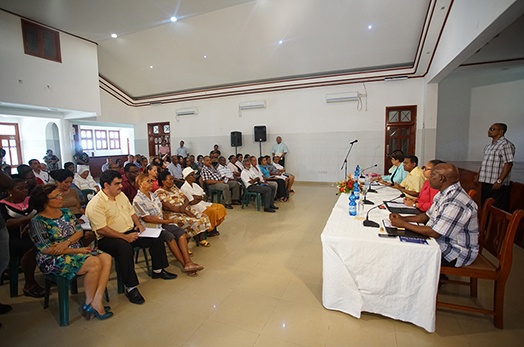 President Faure Chairs First Community Leaders Meeting of 2017 at Roche Caiman District
Fri, 20 January 2017
President Danny Faure conducted his first community leaders meeting of the year in the district of Roche Caiman this morning, with representatives from various key sectors of society such as education, youth, sports, police, health, business, civil society, housing, religious bodies and public utilities.
Held at the Roche Caiman Community Centre, President Faure was welcomed by Designated Minister and Minister for Local Government Mrs Macsuzy Mondon, Member of the National Assembly for Roche Caiman Hon Audrey Vidot, Proportional Member for LDS in the National Assembly Hon Jany De Letourdie, and District Administrator Mr Wilbert Omath.
The President thanked the Roche Caiman community leaders, partners, and stakeholders for responding to the invitation and participation in the open discussion to benefit the district. "I want to thank everyone here today who has contributed to the socioeconomic development of the district, your presence here today is a testament of your commitment to improve your community.  Through the Ministry of Local Government, the government is here to encourage, support and facilitate your efforts to face the challenges in the Roche Caiman community," said President Faure.
President Faure also reiterated the call for everyone to work together and engage in a dialogue of mutual trust and respect. "The new challenges we face in this new era demand a new work approach – the solution is in accepting our differences of opinion," said President Faure. He reminded those present that the community centre and district facilities are at the disposal of all members of the community.
During the meeting, the District Administrator for Roche Caiman, Mr Wilbert Omath, presented an overview of the existing services being provided, the different functions of the District Administration Office and some of the future projects for Roche Caiman district.
Those present at the meeting had the opportunity to raise issues affecting the community and propose solutions for some of those problems.Also present this morning was the Principal Secretary for Community Development Mrs Marie- Celine Vidot, Special Advisor for Community Development Mr Dan Frichot, Chief of Protocol and Presidential Affairs Mrs Jacqueline Moustache-Belle, and Deputy Chief of Protocol and Presidential Affairs Mr Larrey Chetty.
Editor's Note:
The Roche Caiman district is situated on the East Coast of Mahe. It borders with Les Mamelles, Plaisance and Mont Fleuri.
It has been divided into five zones: zone 1, C1, C2, zone 2, zone 4 and zone borlanmer.
• Roche Caiman became a district in 1998 and was officially opened on 1st June the same year
• Its population is made up of nearly 3500 inhabitants