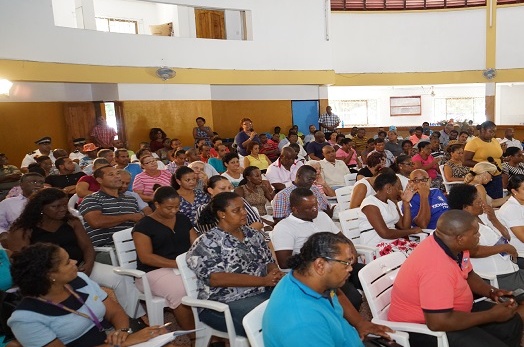 President Faure Conducts Meetings with Takamaka and Anse Royale Community Leaders
Fri, 27 January 2017
President Danny Faure conducted meetings with community leaders and key partners in the districts of Takamaka and Anse Royale this morning. Representatives from various sectors of society including civil society, PUC, housing, health, NGOs, education, land transport, environment, and the elderly, were present at both meetings.
The President was welcomed at the Takamaka and Anse Royale Community Centres by Designated Minister, Mrs Macsuzy Mondon, Member of National Assembly for Takamaka, Honourable Paul Ernesta, Member of National Assembly for Anse Royale, Mrs Sylvanne Lemiel, Proportionately Elected Member of the National Assembly, Honourable Flory Larue, District Administrator for Takamaka, Mrs Claudy Mathiot, and District Administrator for Anse Royale, Mr Jim-Roy Jeannevol.
Those present at the meeting had the opportunity to raise various issues affecting the community and propose solutions for some of those problems. Following this, President Faure underlined the importance of District Administrations staying connected with the people in different sectors of the community and directing matters to the relevant authorities.
"The key to progress is conversation. Here in Takamaka, like in all other districts, there is an authority, and that is the District Administration. The District Administrations should look at the needs of its citizens, services, and businesses in order to bring relevant matters before Ministries and other existing bodies. We need to have a working structure that does not let the problems of our people to accumulate and cause frustrations," said the President.
In respect to infrastructural developments at district level, the President welcomed the creation of a conservation program in Takamaka that aims to institute a wildlife centre in Anse Marie Louise. He said that they should work in close consultation with the District Administration and other authorities.
As President Faure thanked the community leaders and stakeholders in the Takamaka and Anse Royale districts for their attendance, observations, and constructive criticism, he stressed on the necessity of community spirit, solidarity, and confidentiality among citizens. The President also reminded those present that the Government's policy today is to ensure no citizen is left behind, and said that he is determined to make the changes required in the public sector to make it more transparent and efficient.
"I believe in the fundamental principle of inclusive development and policy-making that benefits all Seychellois. There are conflicts of policies in the various structures of the government that need to be addressed to ensure efficiency, and most importantly, meet the expectations of our citizens in this present time," said President Faure.
Following the various issues raised, the President fixed deadlines for feedback to be submitted to his office to ensure action is taken, and referred to his State of the Nation Address on the 14th of February that will guarantee further progress.
Also present this morning was the Principal Secretary for Community Development, Mrs Marie- Celine Vidot, Special Advisor for Community Development, Mr Dan Frichot, Chief of Protocol and Presidential Affairs, Mrs Jacqueline Moustache-Belle, and Deputy Chief of Protocol and Presidential Affairs Mr Larrey Chetty.