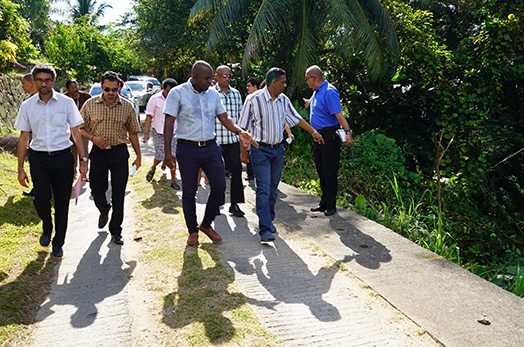 President Faure Visits English River District
Fri, 24 March 2017
President Danny Faure visited key sites in English River this morning as a continuation of his visits and consultations at community level.
President Faure, accompanied by a delegation of community leaders and key government agencies and services, viewed first-hand the status and progress of various projects in the district.
The visit began at Majoie, where President Faure visited the site of the proposed road-widening project at upper Majoie linking Majoie and Mont Signal. This is expected to improve road access, the flow of traffic, and also facilitate the availability of other services to the inhabitants of the area, such as the bus service.
Leaving upper Majoie, President Faure and his delegation visited the site earmarked for an upcoming Housing Project at Union Vale.  The identified land for the project currently holds a number of emergency housing units accommodating families. Following this morning's visit and assessment on site, the decision was taken to increase the initial 48 unit housing project by 16 units to maximise use of available space and house more Seychellois families.
The project for 24 units in 24 months announced by President Faure in his State of the Nation Address will be part of the first phase of the Union Vale project. Following this, an additional 40 units will be built as part of the next phase.
Aside from visiting families living in the emergency houses, President Faure also visited the English River Home for the Elderly. He met several members of the community, visited their homes, and listened to their individual concerns on the way.
Following the site visit, all representatives from the ministries and agencies met for a debriefing session chaired by President Faure at the English River District Administration Office. "I would like to thank everyone present for accompanying me on this visit to the English River district. Together, we have managed to see for ourselves the situation on the ground and identify the priority areas we need to address," said President Faure.
The President affirmed that there is a need for a more coordinated work approach at all levels, between the Government and all the relevant authorities for ongoing community projects. "We need to ensure all departments and agencies are consulted to allow for a more coordinated implementation of projects that will in return bring greater benefits in a timely manner for the people living in our communities," added President Faure.
Also present for the visit was Designated Minister and Minister for Local Government, Mrs Macsuzy Mondon, Member of National Assembly for English River, Hon Wilbert Herminie, Principal Secretary for Infrastructure, Mr Yves Choppy, Principal Secretary for Social Affairs, Mrs Linda William-Mélanie, Chief Executive Officer of Property Management Company (PMC), Mr Lenny Lebon, Chief Executive Officer of Seychelles Land Transport Agency (SLTA), Mr. Parinda Herath, District Administrator, Ms Nicole Gabriel, and other members of the District Authority.
To view full photo gallery of the visit please click below link for Photo Gallery from the State House Facebook Page:
https://www.facebook.com/pg/StateHouseSey/photos/?tab=album&album_id=1306005042800777