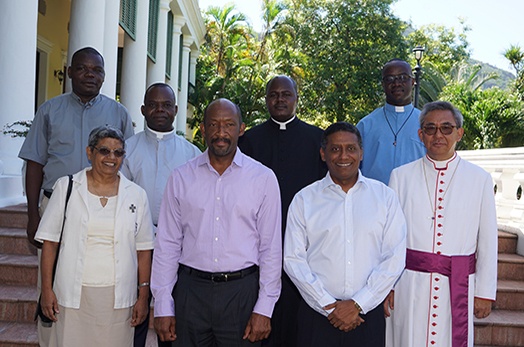 Six distinguished persons granted Seychelles citizenship by the President
Thu, 11 May 2017
President Danny Faure has, for the first time, granted Seychelles citizenship to six persons in accordance to Article 5(1) of the Amended Citizenship Act 1994. In the presence of President Faure, a symbolic ceremony was held this afternoon at State House, in their honour.
The President described these persons as exemplary leaders and an inspiration to the people whose lives they touch everyday in their communities.
The six distinguished persons are Bishop James Richard Wong Yin Song, Sister Marie Alice Vivien, Father Landry Mukoko Maketa, Father Pierre Madiela, Father Louison Emerick Bissila and Father Guy Inkumene.
Present for the event this afternoon was the Vice-President, Vincent Meriton, the Catholic Bishop of the Diocese of Port Victoria, Mgr. Denis Wiehe, Sister Nita, the wife of Bishop Wong, and other senior Government officials.