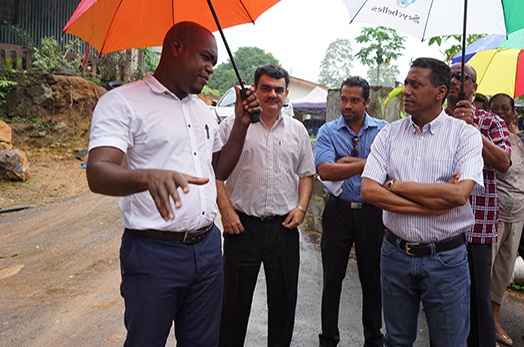 President Faure Visits the Port Glaud District
Fri, 12 May 2017
President Danny Faure visited several areas of the Port Glaud district this morning, as part of his ongoing programme of community visits.
Accompanied by community leaders and representatives of government agencies and services, President Faure had the chance to review the progress of numerous road and housing projects in the district.
The delegation started the visit at the Beoliére Milieu Road, where President Faure viewed the completed road project currently benefiting over 15 families who now have motor vehicle access to their homes.
President Faure also visited the road in front of President's Village currently affected by tidal surges, and along with the relevant authorities, discussed possible solutions to remedy the problem. 

Aside from road projects, President Faure also visited the homes of families at Forêt Noire requiring urgent housing assistance, including the Forêt Noire low-cost housing redevelopment project. Following the visit, it was decided that the current 12 units will be redeveloped into a 25 unit housing estate.
Following the visit, the delegation met at the Port Glaud Community Centre where solutions to the challenges faced by the district were proposed, and some members of the district had the chance to express their concerns to the President directly.
President Faure expressed his appreciation to the district authorities for the work being done. He reiterated his call for all relevant agencies to join forces and work together as a team to ensure efficient services are provided from community level, and provide a better service to all citizens.