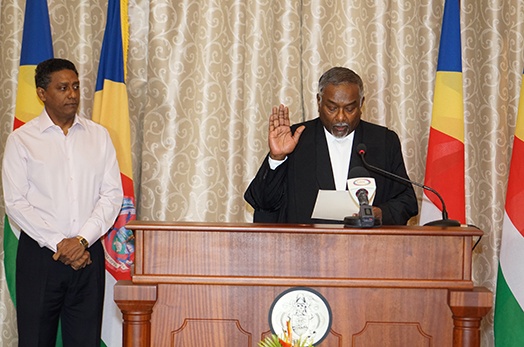 Judge Renaud Sworn In as Justice of the Court of Appeal
Thu, 18 May 2017
In the presence of the President of the Republic, Mr Danny Faure, the new Justice of the Court of Appeal Judge Bernardin Renaud, was sworn into office at a ceremony held at State House this morning.
During the ceremony, Judge Renaud took the Oath of Allegiance to the Constitution and the Judicial Oath. Judge Renaud was appointed Justice of the Court of Appeal by President Faure on Monday 24 April 2017, following recommendations made by the Constitutional Appointments Authority and in consultation with the Leader of the Opposition, Hon Wavel Ramkalawan.
Judge Renaud is one of the longest serving public officers, having joined the civil service in 1965. He served as Labour Commissioner from 1979 to 1985 and chaired the meetings of the Constitutional Commission that led to the formation of the Third Republic. He was also the Director of Elections for the Referendum that approved the Constitution, as well as the first Presidential and National Assembly elections in 1993. He became the first Ombudsman of the Republic in November 1993. Prior to his appointment as Justice of Appeal, he was serving as a Judge of the Supreme Court from January 2004
Also present at the auspicious ceremony was the Vice-President, Mr Vincent Meriton, Speaker of the National Assembly, Mr Patrick Pillay, the President of the Court of Appeal, Justice Francis Macgregor, the Chief Justice of the Supreme Court, Mrs Mathilda Twomey, Ag. Attorney General, Mr David Esparon, Leader of Government Business, Hon Charles Decommarmond, members of the Judiciary, Members of the Constitutional Appointments Authority and other distinguished guests including members of Judge Renaud's family and senior officials in the Office of the President.