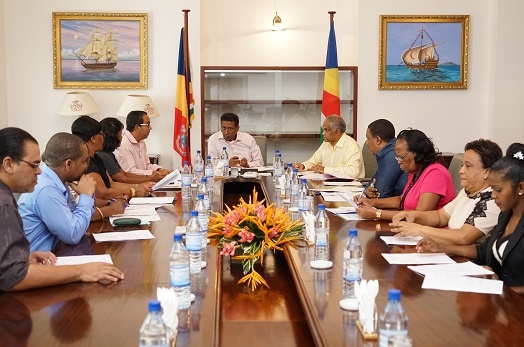 President Faure Meets the Board of CEPS
Thu, 18 May 2017
President Danny Faure met with the Chairperson and Members of the Board of the Citizens Engagement Platform Seychelles (CEPS) at State House this afternoon.  This was his first meeting with the forum in 2017.
The Chairman of CEPS presented a proposal for a new Memorandum of Understanding between CEPS and Government with the aim of strengthening the structures and mechanisms for civil society organisations to collaborate more effectively with the machinery of Government, and to contribute towards decision making on important issues of national development.
The CEPS Members raised a number of issues of public concern that had been brought to their attention, for example, overcoming the difficulties faced by low-income families, the need for better parenting and for addressing problems of student discipline in schools.  The promotion of voluntarism in society, and more responsible citizenship at all levels, was discussed. CEPS members  emphasised importance of properly sensitizing the public on important initiatives of Government, and urged that the time frame provided for public feedback on Government White Papers, for example the Civil Code, be extended to provide adequate time for input following proper discussion of the issues within families and communities.
The CEPS Members presented the President with a copy of its complementary proposals for Cap Ternay.