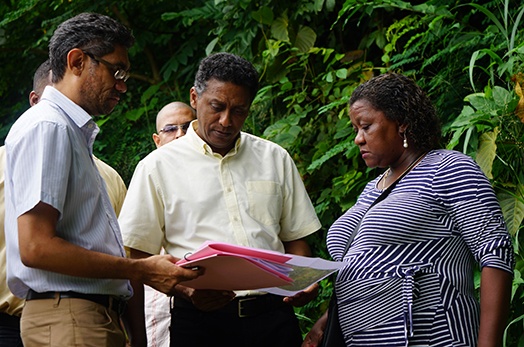 New Actions to be executed following President Faure's visit in the Glacis District
Fri, 26 May 2017
President Danny Faure visited numerous parts of the Glacis District this morning as a continuation of his programme of visits in the community.
President Faure, was accompanied by community leaders and representatives of government agencies, where they visited numerous families facing housing problems or in urgent need to be relocated.
Aside from visiting members of the community with housing issues, President Faure and his delegation also visited locations requiring urgent infrastructural works such as building of new retaining walls and barriers.
The district authorities present also viewed and proposed possible options to improve road access for citizens living in some of the visited sites, in order to ensure there is improved accessibility for the residents in a safe and more conducive environment.
Following the visit, the delegation met at the Glacis Community Centre for a meeting where all members collectively discussed and agreed on course of actions to be undertaken for the various site visited and priority issues raised. Guidelines and timeframes for actions.