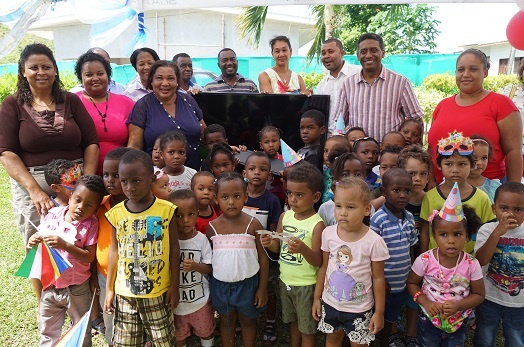 President Faure visits schools on inner islands to mark International Children's Day
Thu, 01 June 2017
To commemorate International Children's Day, President Danny Faure visited students in public and private schools on La Digue and Praslin.
The visit started on La Digue, where President Faure and his delegation visited crèche, primary, and secondary students during a tour of some classrooms and the school compound. The President's visit was also an opportunity for La Digue school pupils, staff, and parents present to meet the President and discuss any challenges.
Leaving La Digue, President Faure made his way to Praslin Ile Eve commencing his school tour at the Baie St Anne Primary School where he visited crèche and primary pupils as well as the pupils of the Praslin School of the Exceptional Child Centre. Accompanied by the Headteacher of the schools, President Faure made various stops at classrooms where pupils along with their teachers were eagerly awaiting his arrival.
President Faure also visited the Vijay International School, a private school at Baie St Anne. During his visit President Faure, toured the school facilities including classrooms and the new sports centre. He also had the opportunity to briefly follow one of the classes in progress.
From Baie St Anne, the Presidential Delegation journeyed to the other side of Praslin to visit Grand Anse Crèche, Grand Anse Primary School, the Anse Kerlan Creche, and the Grand Anse Secondary School. Similar to the previous schools visited, President Faure took time to meet the students, share ideas and listen to their aspirations.
During his visit to all the inner island schools, President Faure presented each school with donations including projector sets, televisions, laptops, photocopiers, and cookers, which are expected to provide more innovative methods of teaching and improve learning. All items were purchased via the Children's Fund and based on the individual needs of the schools.
The President ended his Children's Day tour at the Grand Anse Secondary School where he joined the secondary students and School Management for a meal at the school dining room.