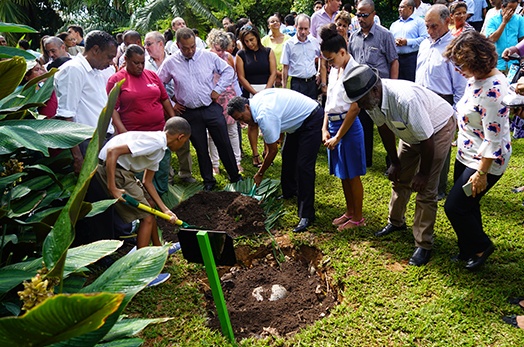 President Faure Commemorates World Environment Day 2017 with Coco De Mer Tree Planting at State House
Mon, 05 June 2017
To commemorate World Environment Day 2017, today 5 June, President Danny Faure invited students representing secondary schools in Seychelles to plant 7 Coco de Mer seedlings in the State House gardens.
Present at this symbolic ceremony were Ministers, senior Government officials, pioneers of environment protection, teachers, and students.
The theme for this year's World Environment Day is 'Connecting People to Nature'. Since it was initiated in 1972, global citizens, including those in Seychelles, have organised many events to sensitise the population on the importance of environment protection. These activities include neighbourhood clean-ups, family fun days, re-afforestation, field trips to parks and other protected areas, and action against wildlife crime.
"Living in a Small Island Developing State, where a large percentage of our land ecosystems is protected, I can certainly say that nature is right at our doorstep. Being connected to nature and appreciating its beauty has an impact on our wellbeing. As youths we should be concerned about harmful influences of human activities on our environment," said Joshua Sofola, a student at SALS and the Master of Ceremony at the event.
He continued, "Today, we pledge our support and join hands with our parents to honour one of the Fundamental Duties prescribed in Article 40(e) of our Constitution, which calls on all citizens to protect, preserve and improve the environment of Seychelles."
During the ceremony, a well-known pioneer of forestry who has devoted more than 43 years of his life to the protection of the environment, Mr Willy André, shared with the invitees the significant contributions he has made.
Following this, President Faure planted a Coco de Mer seedling in the gardens of State House, and the remaining six were planted by students from each region: the North, South, East, West, Central Mahé and the Inner Islands.