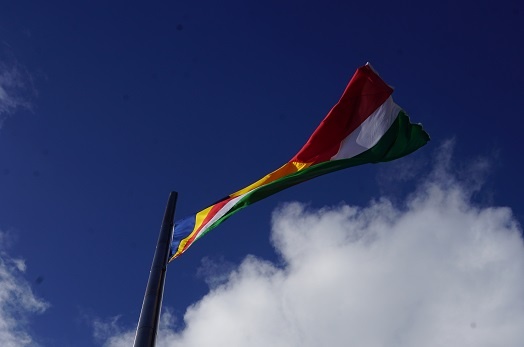 Flag Raising Ceremony Commemorates Seychelles' Constitution Day
Sun, 18 June 2017
The President of Republic, President Danny Faure attended the Flag Raising Ceremony at the Lavwa Lanasyon (the Voice of the Nation) monument in Victoria this morning, to commemorate the third Constitution Day of the Republic of Seychelles on 18 June.
The event, organised by the National Celebrations Committee chaired by the Designated Minister Mrs Macsuzy Mondon, was attended by the President of the Court of Appeal, Justice Francis Macgregor, the Chief Justice of the Supreme Court, Mrs Mathilda Twomey, Leader of the Opposition, Hon Wavel Ramkalawan, Leader of Government Business, Hon Charles Decommarmond, Ministers, Members of the National Assembly, Members of the Judiciary, Government officials, the Diplomatic Corps and other distinguished guests.
The ceremony paid tribute to the Constitution, the supreme law of the land, as well as the National Flag and National Anthem as the source of pride and patriotism for all Seychellois Citizens.
Constitution Day celebrations continues today with the opening of Schools' Athletics Championships being held at State Linite.
For full photo gallery of ceremony please visit our State House Facebook Page:
https://www.facebook.com/StateHouseSey/