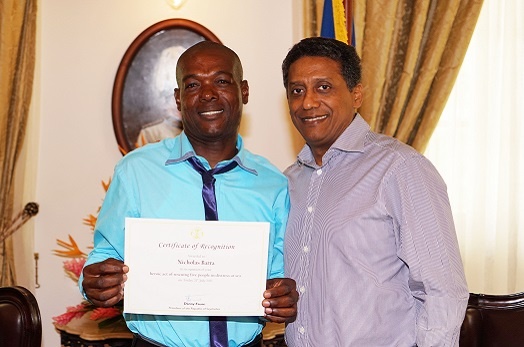 President Commends Nicholas Barra for Brave Act of Citizenship
Tue, 01 August 2017
President Danny Faure received Mr Nicholas Barra at State House this morning, in recognition of his tremendous bravery.
President Faure commended Mr Barra for his great act of citizenship, resulting in him saving the lives of five people from drowning at sea during a recent incident that occurred some 25 metres from shore near the Allamanda Hotel at Anse Forbans.
"You were brave and courageous enough to risk your own life in order to save others. On behalf of Government and the people of Seychelles we thank you and applaud your efforts" said President Faure.
During the meeting Mr Barra shared his experience of the incident with the President and thanked him for welcoming him to State House.
Mr Barra is a 42 year old well-trained former Life Guard.  During the meeting, Mr Barra also raised the possibility with the President of creating a lifesaving network in the South of Mahe on popular beaches, especially during the southeast trade winds.