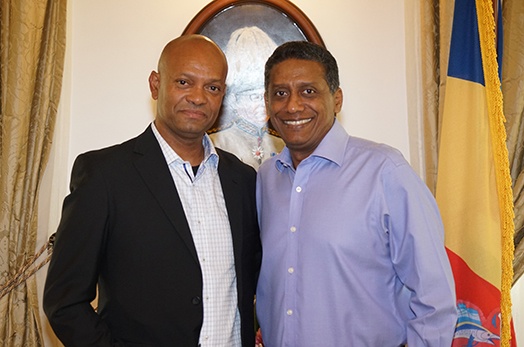 President Faure meets Washington DC-based Seychellois Professor
Fri, 04 August 2017
President Danny Faure met Seychellois Professor, Dr Ralph Etienne-Cummings, at State House this morning.
Based in Washington DC, Dr Etienne-Cummings is a Professor and Chairman of the Department of Electrical and Computer Engineering at the University of Johns Hopkins. He was also the founding director of the Institute of Neuromorphic Engineering.
During the meeting at State House, President Faure congratulated Dr Etienne-Cummings on his achievements and for setting an example to the younger generations. "As a country we take pride in our fellow Seychellois' achievements and we celebrate your success in your chosen profession. We hope that you will continue to be an inspiration and role model for our Seychellois youth," said President Faure.
During the meeting, the President and Dr Etienne-Cummings discussed enhancing the interest and exposure of Seychellois children and youth to fields of technology and science,  primarily now with the creation of the National Institute of Science Technology and Innovation (NISTI). They also talked about the possible avenues of collaboration between NISTI and the University of Seychelles through Dr Etienne-Cummings' vast expertise.