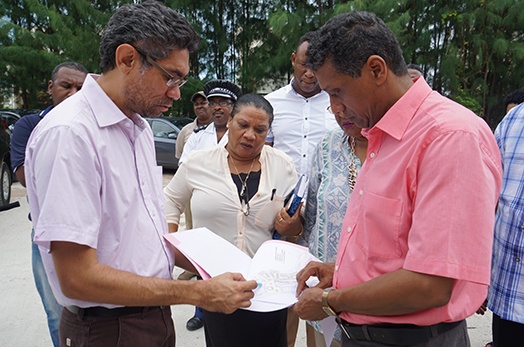 President Faure visits Bel Air District and Ile Perseverance Residential Estates
Mon, 04 September 2017
President Danny Faure visited the Bel Air District and the Ile Perseverance Residential Estates; Perseverance I and II this morning as part of his ongoing community visit programme.
In the Bel Air district, the President visited an elderly resident at Sans-soucis, toured the newly opened Day Care Centre, viewed the site for the Curio Road widening project, and the site of the Stevenson Delhomme road project to link to Bel Air Road.
For Ile Perseverance, the President toured both Perseverance I and Perseverance II Housing Estates where he visited numerous families, viewed first hand some infrastructural challenges being faced at the estates and had the opportunity to on site discuss and agree with the relevant agencies on decisions and course of actions.
Apart from viewing housing, social cases and undeveloped areas encouraging anti-social behaviours, the delegation also visited possible sites for redevelopment of recreational facilities, administrative block for key agencies and business development project that would improve the residential environment, community life and better support the needs and aspirations of the residents.
President Faure also paid a visit to some of the families who have been honouring their housing agreements and have turned their houses into exemplary homes.
Following the two visits, the delegation attended a meeting at their respective District Administration Office chaired by the President to discuss and agree on decisions and time frames for action. It was also an opportunity for the representatives to discussion with the President on other community matters and propose possible solutions.
The President urged all the relevant Ministries, Departments or Agencies present to reinforce networking links with the district authorities to ensure the services being delivered to the people in their communities are efficient and well-coordinated.
Present for the visit was Designated Minister, Minister for Local Government and Home Affairs, Mrs Macsuzy Mondon, Member of the National Assembly for Bel Air, Hon. Norbert Loizeau, Principal Secretary for Infrastructure, Mr Yves Choppy, Principal Secretary for Local Government, Mrs Celine Vidot, Principal Secretary for Public Affairs, Mrs Doreen Arnephy, Principal Secretary for Family Affairs, CEO of Property Management Company, Mr Lenny Lebon, CEO of Seychelles Land Transport Agency, Mr Parinda Herath, CEO of Land and Waste Management Mr. Michel Vielle, NDEA and Police Officials, other representatives of services and agencies, and District Administrators for Bel Air and Perseverance I and II.
To view more photos of the President's visit, please click below link to State House Facebook Page:
https://web.facebook.com/StateHouseSey