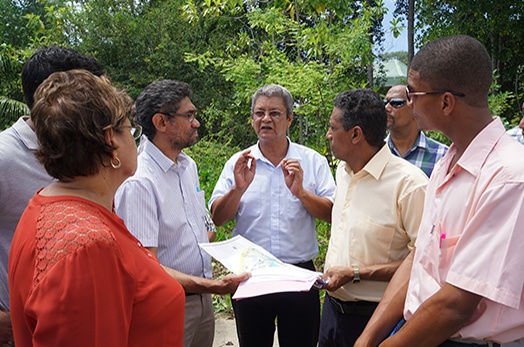 President Faure visits Anse Aux Pins and Au Cap District
Fri, 08 September 2017
President Danny Faure continued with his series of community visits this morning in the Anse Aux Pins and Au Cap Districts. The President was accompanied by community leaders, representatives of district authority and representative of key services and agencies.

During his tour in the Anse Aux Pins District, President Faure had the opportunity to view the progress of numerous ongoing and new community projects such as the Ile Soleil 2020 Development Beach Front Project and the vacant space behind the SPTC Terminal e-marked for redevelopment.

President Faure also visited a member of the community at Upper Bodamier and got a chance to hear his proposal to expand his Mechanic Business to launch an academic project to impart his knowledge and skills to youths interested in learning.  The President also visited a family at 'Berlin' facing challenges with land and housing.

In relation to Housing, the President and delegation also visited the Chetty Flats where he obtained a first-hand view of the situation at the Residential Estate, primarily in relation to Drug Trafficking and Drug Use on the premises. Decision has been taken for all relevant authorities both at Ministry and community level to join forces to reinstate 'Chetty Flat' Residential Estate into a more conducive environment where residents feel safe and develop a sense of pride to live.

In the Au Cap district, the President visited major road projects, firstly at Capucin Upper 'Dan Gravye' for the possibility of converting the existing steps into motor road access for the residents. He also visited a site at the Mandarin Estate at the demand of residents who had written to the Office of the President for a road project at the Ex Foam Housing Estate.

The President also visited a family living in an Emergency House at Point Au Sel, the Youth Sports Project at the Point Au Sel Court and the proposed site for the 24 Unit Residential Block announced by the President.

During meetings held at the District Administration Office following the visit in both districts, President Faure commend the Members of the National Assembly and District Administrators for the good working relationship all in the best interest of members of their communities.

Present for the visit was Designated Minister, Minister for Local Government and Home Affairs, Mrs Macsuzy Mondon, Member of the National Assembly for Anse Aux Pins, Hon. Clifford Andre, Member of the National Assembly for Au Cap, Hon. Stephen Pillay, Principal Secretary for Infrastructure, Mr Yves Choppy, Principal Secretary for Local Government, Mrs Celine Vidot, Principal Secretary for Public Affairs, Mrs Doreen Arnephy, Principal Secretary for Family Affairs, Mrs Marie-Josee Bonne, CEO of Property Management Company, Mr Lenny Lebon, CEO of Seychelles Land Transport Agency, Mr Parinda Herath, NDEA Officials and other representatives of services and agencies, and District Administrators for Anse Aux Pins and Au Cap.
To view more photos of the President's visit, please click below link to State House Facebook Page:
https://web.facebook.com/StateHouseSey