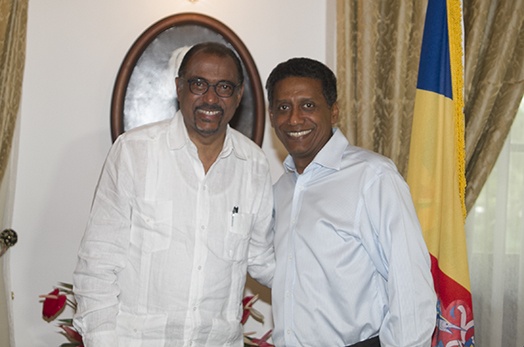 President Faure receives Executive Director of UNAIDS
Thu, 28 September 2017
The President of the Republic, President Danny Faure, met with the Executive Director of UNAIDS, Mr Michel Sidibé, at State House this afternoon.

Mr Sidibé is in Seychelles to attend the panel discussion on laws, policies, and strategies to eliminate the epidemic of HIV/Aids in Small Island Developing States taking place tomorrow, on the sidelines of the ongoing Sixth Meeting of African Ministers of Health of Small Island Developing States.

During the meeting, the President and Mr Sidibé discussed progress and achievements of Seychelles in relations to HIV/Aids programmes, policies, and treatment. They also discussed the dangerous effects of drug use and the urgency for collaborative strategies locally and regionally to address the issue.

Also present for the courtesy call at State House was newly appointed Seychellois Country Director for UNAIDS, Dr Jude Padayachy, and the CEO of the National Aids Council, Dr Anne Gabriel.