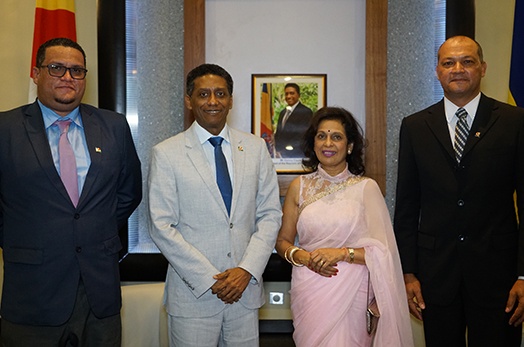 President Faure holds meetings with key personalities in the Mauritian Government
Sat, 28 October 2017
President Faure held several meetings with key personalities in the Mauritian Government yesterday afternoon. He met with former Prime Minister of Mauritius, Mr Paul Bérenger, Acting Chief Justice, Justice Eddy Balancy, Minister of Industry, Commerce and Consumer Protection, Mr Ashit Kumar Gungah, the Speaker of the National Assembly, Mrs Hanoomanjee Santi Bai, and the Leader of the Opposition, Mr Xavier-Luc Duval.
His meetings centred on cementing the excellent bilateral relations with Mauritius, and exploring various avenues for further cooperation.
In his meeting with Mrs Santi Bai Maya Hanoumanjee, Speaker of the National Assembly of Mauritius, President Faure was accompanied by Deputy Speaker of the National Assembly, Hon Nicholas Prea, and MNA, Hon Basil Hoareau. President Faure congratulated her on being the first woman Speaker in the country. They discussed the current political climate in Seychelles and the potential to work together in improving links between the National Assemblies.
President Faure's meeting with Minister Gungah focused on lowering costs of living in Seychelles through closer cooperation between Seychelles Trading Company and Mauritius' State Trading Company. This partnership would result in Mauritius' STC bulk purchasing certain goods for Seychelles, including consumer items such as rice, and pharmaceuticals, which would lead to a significant reduction in price.
Former Prime Minister Paul Bérenger took the opportunity to congratulate President Faure for his leadership and the success of cohabitation in Seychelles. He also discussed the current political climate in Mauritius, and thanked the President for his solidarity with Mauritius on the Chagos question. On his part, President Faure sent former Prime Minister Béranger the best wishes of the people of Seychelles.