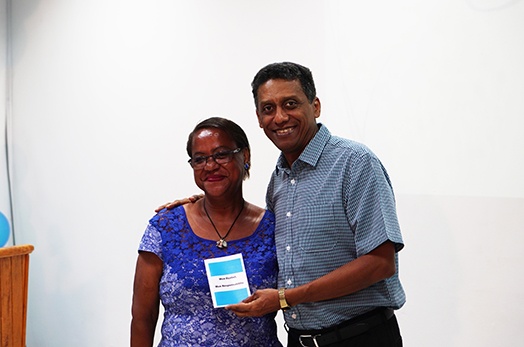 President Faure joins staff at Ministry of Health to commemorate World Diabetes Day 2017
Tue, 14 November 2017
President Danny Faure was the guest of honour at a presentation ceremony to commemorate World Diabetes Day 2017, held at Seychelles Hospital this morning. The theme for this year is 'Women and diabetes - our right to a healthy future'.
President Faure extended his continuous support to the staff of the Seychelles Hospital working hard to take care of patients suffering from diabetes, as well as those in other departments within the health system.
"We should not forget that we have an integrated health care system which is comprehensive. It is the responsibility of each one of us to develop that system and find ways to reduce money spent in our health care system. The Ministry of Health has an important theme: 'My Health, My Responsibility'. In line with my State of the Nation Address this year, I will partner with this mission. We encourage our citizens to rally behind this theme and to live by it," said the President in his keynote address.
The presentation focused on the fully integrated management of diabetes which highlighted some of the efforts of the Ministry of Health to reduce the problems linked to diabetes, such as the introduction of the Diabetes Passport, National Pathway of Care, and a groundbreaking early detection programme through retinal scans.
As a symbolic gesture, President Faure had the honour to present three patients diagnosed with diabetes a booklet entitled 'My Diabetes, My Responsibility'. It contains useful information on how they can control diabetes at home, including what to eat, exercises that can be done at home, and how to avoid complications.
Other distinguished guests present included the Minister of Health, Mr Jean-Paul Adam, Principal Secretary for Health, Dr Bernard Valentin, WHO Liaison Officer, Dr Gakuru, Chief Executive Officer of the Health Care Agency, Dr Danny Louange, Public Health Commissioner, Dr Jude Gedeon, Special Advisor for Ministry of Health, Dr Lawrence Reginald, staff of the Ministry of Health, and patients diagnosed with diabetes.