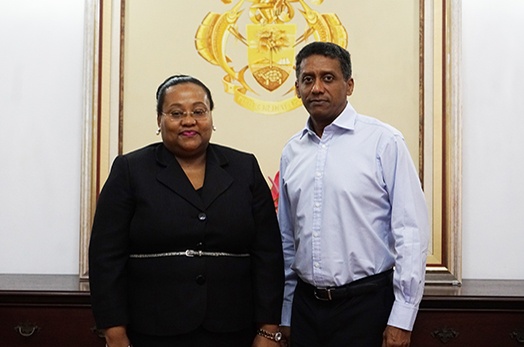 New Tanzanian High Commissioner Accredited
Wed, 15 November 2017
The new High Commissioner of the United Republic of Tanzania to the Republic of Seychelles, H.E Dr Pindi Chana, presented her credentials to President Danny Faure at State House yesterday.
President Faure congratulated High Commissioner Chana on her accreditation and expressed his wish for the diplomatic relations between Seychelles and Tanzania to continue to the next level.
"Our two nations have enjoyed excellent relations for many years. We will always be grateful to the United Republic of Tanzania for all the support that we have received since 1977. I believe we should go back to the value of solidarity that united us. To face the challenges of our new world order, there's more importance attached to the values of solidarity in world, in all organisations that we belong to such as COMESA and African Union. Now after 40 years since our independence, Seychelles has matured. We have more experience to share and we also have a lot to learn from Tanzania. I think is the type of cooperation that is needed," said President Faure.
During the meeting, President Faure and High Commissioner Chana discussed different areas of cooperation that could bring the relations between Seychelles and Tanzania to greater heights, including maritime security and trade and exchange on technical support, amongst others.
Speaking to the national media after her meeting with the President, High Commissioner Chana said that her country and Seychelles have existing cooperation in various fields. She noted that the two countries have similar backgrounds and are on the same organisations at the international level. As both countries are bordered with the Indian Ocean, Dr Chana expressed her wish for Seychelles and Tanzania to exchange ideas of mutual interest in relation to oceans.
"In exchanging knowledge there are many areas that we can cooperate. For instance, tourism, fishing, and how to manage our resources within our continental shelf; we should learn how to better manage these industries. It is easier to discuss these ideas with countries that border oceans or sea, rather than those countries which are landlocked," said High Commissioner Chana.
High Commissioner Chana will be based in Nairobi, Kenya.