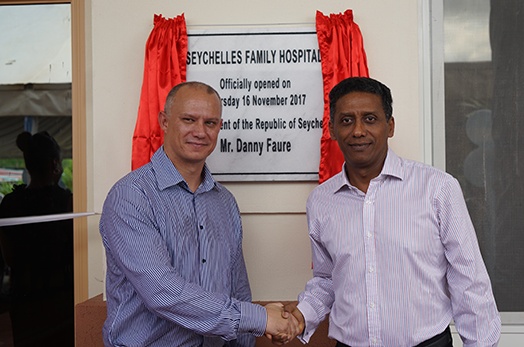 Seychelles Family Hospital officially inaugurated by President Danny Faure
Fri, 17 November 2017
President Danny Faure inaugurated the newly built Seychelles Family Hospital yesterday afternoon at Ile Perseverance. The President had the honour of unveiling a plaque to mark the inauguration.

The Seychelles Family Hospital is a project funded by HH Sheikh Khalifa Foundation and the Government of the UAE costing USD 6 million, to which the Seychelles Government contributed SCR 9 million for the site preparations, site investigations, and other associated costs.

In his opening address, the Minister for Health said that this project is a key facilitator for the further implementation of the hospital redevelopment plan.

The construction of this state-of-the-art facility began in 2016 and was completed by mid-2017, with the handing over to the Government of Seychelles in August this year. The hospital has a capacity of 30 beds and it has 2 operating theatres, 7 consultation rooms, and several inpatient and isolation rooms, as well as a backup ICU. It also has the latest equipment in areas such as audiology, which will help improve services offered to children who are hearing impaired.

The official opening ceremony was held in the presence of the Speaker of the National Assembly, Honourable Patrick Pillay, President of the Court of Appeal, Justice Francis Macgregor, Designated Minister, Mrs Macsuzy Mondon, the Chargé d'Affaires of the UAE in Seychelles, Ahmed Saeed Al Neyadi, and the Cabinet of Ministers, among other distinguished guests.
To view the full photo gallery of the official opening please visit the State House Facebook Page:
https://web.facebook.com/pg/StateHouseSey/photos/?tab=album&album_id=1554551774612768