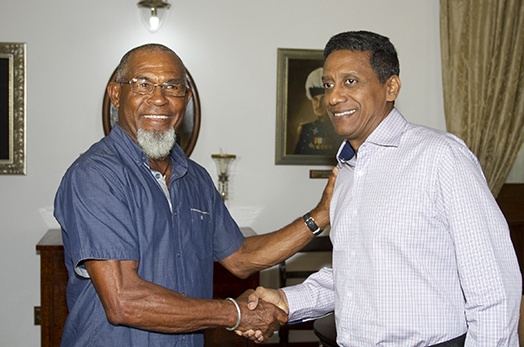 President Faure meets Seychellois environment conservationist
Tue, 21 November 2017
The President of the Republic, President Danny Faure, received Seychellois environment conservationist Mr Robbie Bresson at State House this morning.

President Faure met Mr Bresson following a recent working visit to Bird Island, where he saw some of the conservation efforts in relation to the protection of flora and fauna on the island first hand. Mr Bresson has been working on Bird Island for the past 14 years. 

"I would like to commend and express our sincere appreciation to you for your dedication to environment conservation, and for working tirelessly for so many long years to ensure visitors and future generations have the opportunity to see and appreciate the natural gems of our islands. Seychelles is proud of your achievements and it is our hope that you can now share your expertise and vast knowledge for the benefit of our country," said President Faure.

During the meeting, the President and Mr Bresson also discussed the possibility of engaging Mr Bresson with key government ministries such as the Ministry of Environment, Energy, and Climate Change and the Ministry of Education to initiate possible awareness projects for the transfer of knowledge and skills to Seychellois youths. 

Mr Bresson is 63 years old and has almost 40 years of experience in the field of environment conservation. He has worked on numerous outer islands of Seychelles as a conservationist, predominantly on Cousin and Cousine. He is currently based on Bird Island.  

Speaking to the local media after his meeting with the President, Mr Bresson expressed his appreciation for having been invited by the President to share his knowledge and said he is honoured and ready to give back to society; especially to work with children and young people to impart his knowledge and experience.