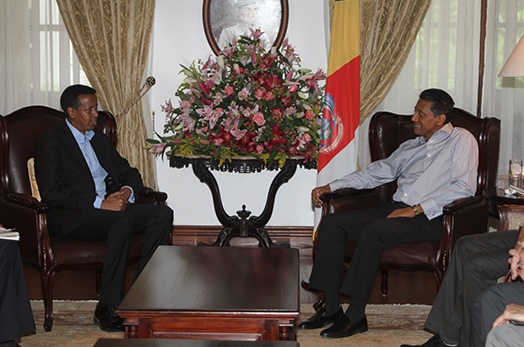 President Faure meets Somali Minister of Foreign Affairs
Mon, 27 November 2017
The President of the Republic of Seychelles, President Danny Faure, received the Minister of Foreign Affairs in Somalia, Ambassador Yusuf-Garaad Omar, at State House this morning. Ambassador Omar is on an official visit in Seychelles to visit the Somali prisoners at the Montagne Posee prison, those in remand at its centre on Bois de Rose, and hold various meetings with authorities in Seychelles.
President Faure welcomed Ambassador Omar to State House and noted that this is the first visit of a high-level representative from Somalia to Seychelles. President Faure extended the support of the government of Seychelles to Somalia in assistance with building strong institutions, capacity building, and education about safe guarding the ocean.
"Although Seychelles was badly affected by the scourge of piracy in 2008, we belong to the same continent and in the spirit of solidarity, Seychelles is prepared to support you with nation building. We are ready to help you build your capacity in maritime security. We need to make sure that the ocean is safe. The younger generation has earned that for when we are no longer here," said President Faure.
The Head of State and the Somali Foreign Minister discussed avenues of cooperation with mutual interests, such as in maritime security, fisheries, trade, and the blue economy. They also spoke about the transfer of the Somali prisoners currently in Seychelles back to Somalia to continue serving their sentence.
The President continued the discussion by stressing on the importance for Seychelles and Somalia to join forces to protect and preserve the region and to show the world that it is a safe place, securing growth and development of both countries and the region as a whole.
"We can only achieve that if there is peace and security not only inland, but also at sea. We need to instil the importance of this in our young people. It is important for the young Somalis to be taught the value and importance of the ocean," said President Faure.
Ambassador Omar briefed the President on the meetings held so far here in Seychelles and the present situation in Somali.
Speaking to the local press after also meeting the Vice-President, Ambassador Omar welcomed the assistance offered by the government of Seychelles and noted that scourge of piracy has decreased in the region. He attributed this to the consistent efforts of regional and international military forces, as well as the effective prosecution of pirates.
Also present at the meeting this morning was the Secretary of State for Foreign Affairs and Chairman of the Contact Group on Piracy, Ambassador Barry Faure, Diplomatic Advisor to the President, Ambassador Calixte D'Offay, and Acting Superintendent of Prisons, Mr Raymond St Ange.