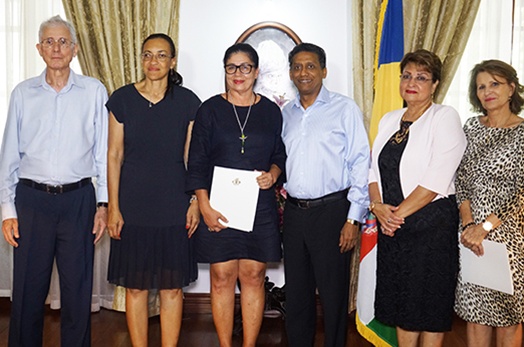 President Faure Commends Retiring Officers
Thu, 30 November 2017
President Faure said farewell to three retiring Ambassadors and CEOs at State House this afternoon; Ambassador Callixte D'offay, Mrs Marise Berlouis, and Mrs Lena Desaubin.
On behalf of the Government and people of Seychelles, President Faure thanked them for their dedication and hard work as well as for their professional and loyal service over the many years that they worked for the Government.
Before presenting them with tokens of appreciation, the retiring officers shared their experiences, and how they plan on spending their retirement.
Ambassador D'offay was appointed as the Diplomatic Adviser to the President on 15 January 2013, and has held the post to date. He began his career in diplomacy in 1976 as a Protocol Officer at State House, and has held various positions during his 41 years of service as an Ambassador, both local and international, including Representative to the Organisation Internationale de la Francophonie, UNESCO, FAO, and Secretary General of the Indian Ocean Commission. Ambassador D'offay said that he is grateful for the recognition, and privileged that he has been able to work with former Presidents, particularly with the current Presidency under the leadership of President Danny Faure.
Mrs Lena Desaubin has served various positions in government for 33 years, more specifically in the field of environment. She was appointed as Chief Executive Officer of Industrial Estates Authority on 1 November 2016. She has always been passionate about the environment and said that as she takes her retirement, she intends to spend her time promoting sustainable development.
Mrs Marise Berlouis was appointed Principal Secretary in the Office of the Designated Minister in October 2016. She joined the public service in 1977 and has held various positions at administrative and management level. She expressed her wish to simply relax at home and enjoy her retirement.She encouraged young people to persevere in their careers and be patient. She stressed that one can only earn promotions through hard work and experience.
President Faure was joined at the retirement ceremony by the Designated Minister, Mrs Macsuzy Mondon, and Chief Secretary of the Public Service, Ms Jessie Esparon.