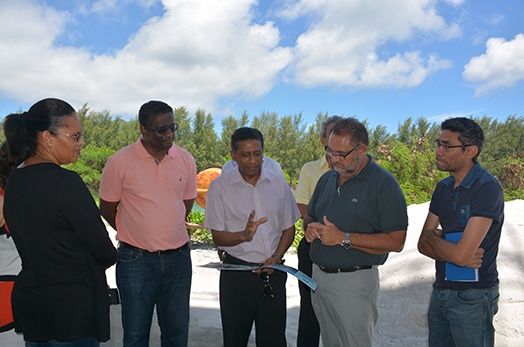 President Faure reviews progress of Graduate Condominium Project
Sat, 02 December 2017
President Danny Faure visited the site of the Persévérance Point Graduate and Luxury Condominiums Project, aimed at addressing some of the housing needs of the country's professionals, at Ile Persévérance II this morning.
The visit was an opportunity for the President to review and discuss the progress of over 100 units that will cater for young Seychellois professionals who are first time homebuyers and who have applied for a house in the Persévérance Point Condominiums Project. To subsidise the construction of the graduate apartment blocks, another 3 blocks of 19 luxury apartments are being built to be sold on the open market. A total of 154 units will be built under the Perseverance Point Condominiums Project.
During his tour, President Faure had the opportunity to view a completed 3 bedroom graduate unit and a partially completed luxury unit which are being built simultaneously in phases as and when buyers for the units confirms their purchase. The President was able to ask the contractor undertaking the project, GICC, for prospective delivery timelines, policy guidelines, and criteria for purchase of units. He also held discussions with the Ministry of Habitat, Infrastructure and Land Transport (MHILT) to ensure the benefits of such a housing project can be maximized and encourage Seychellois graduates and professionals to become home owners.
All applications from graduates and young professionals have to be endorsed by Ministry of Habitat, Infrastructure and Land Transport (MHILT) under their graduate housing scheme. Potential buyers also need to complete an application form either at MHILT or at GICC.
The President was accompanied on his visit by the Minister for Habitat, Infrastructure, and Land Transport, Mr Charles Bastienne, Principal Secretary for Infrastructure, Mr Yves Choppy, Chief Executive Officer of Island Development Company, Mr Glenny Savy, Deputy Chief Executive Officer for GICC, Ms Veronique Herminie, and other GICC officials.
For Full photo galley visit the State House Facebook Page:
https://web.facebook.com/StateHouseSey/