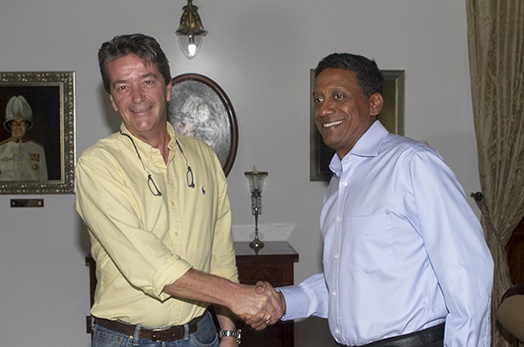 President Faure meets with SCCI's Entrepreneur of the Year
Wed, 13 December 2017
President Danny Faure received the winner of the SCCI Business Awards' Entrepreneur of the Year 2017, Mr Alfred Fourcroy, at State House yesterday.
Mr Fourcroy is the CEO of the International Sales and Promotion Company (ISPC). He has also developed the DIY Supplies hardware store, introduced a range of value-added fish products, and is developing the soon-to-be launched Val d'en d'Or farm. He received his prize at the SCCI Business Awards annual event to reward businesses and entrepreneurs who possess vision, innovation, entrepreneurial drive, leadership, individuality, and tenacity.
The President congratulated him on his achievement and wished him the very best in the launching of his new farm.
With the rising demands for fresh local products, Mr Fourcroy explained to the President that the 6 hectares of land at Val d'en d'Or will be cultivating mainly tomatoes, peppers, cucumbers, and aromatic herbs in an eco-friendly environment. He said that it took him one and half years to research the project, work which included a lot of collaboration with international universities.
They also spoke about the ISPC fish processing plant, whereby fresh fish is bought and then sold whole or in fillet, in a variety of preparations including marinade, croquettes, satay, and smoked. All products are sold vacuum packed and designed to add value to raw products.
During their discussions, President Faure commended Mr Fourcroy on his innovative research at the farm and suggested he share his findings with the Ministry for Agriculture. They also discussed the common interest of students carrying out work attachments at the farm and learning new technologies, which can motivate inspire them to work in that field.
Speaking to the national media, Mr Fourcroy mentioned that the total investment for the farm including the launching will be around 1.2 million Euros. He said that ISPC is a big importer of food and vegetables, and that the farm will be  responding to the demand for fresh products from both the tourism industry and individuals. He said that the farm will be commercialising its products to the whole market, whereby ISPC will be a client.