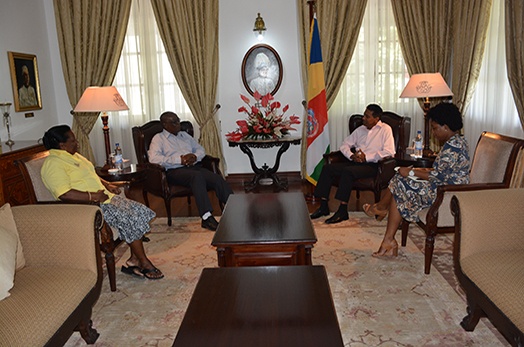 President Faure receives Volunteer Award winners
Mon, 18 December 2017
President Danny Faure welcomed the winners of this year's Citizens Engagement Platform Seychelles (CEPS) Volunteer Awards to State House this afternoon: Mr Justin Freminot, who won first prize, and Mrs Germaine Gill, who was runner-up.
The second edition of the CEPS Volunteer Awards was held on 8 December 2017. The award allows CEPS to recognise the important contribution of volunteers to the community, and reward innovative charitable efforts.
Their courtesy visit to State House was an opportunity for the President to personally congratulate the two winners on their achievements, and convey his appreciation for the work they do. President Faure commended them for volunteering their time and efforts toward causes that improve the lives of citizens.
Mr Freminot is the chairperson of HIV Aids Support Organisation (HASO) and has been a dedicated volunteer for several decades. Mrs Gill is a part-time teacher and a founding member of Alliance of Solidarity for the Family (ASFF).
During the meeting, the two award winners shared ongoing and future projects being implemented under their respective NGOs, challenges being faced, and suggestions on how Seychelles can address some of the rising social ills with the support of its partners. They also discussed ways to motivate and engage more youths to become active volunteers and give back for the betterment of the community.