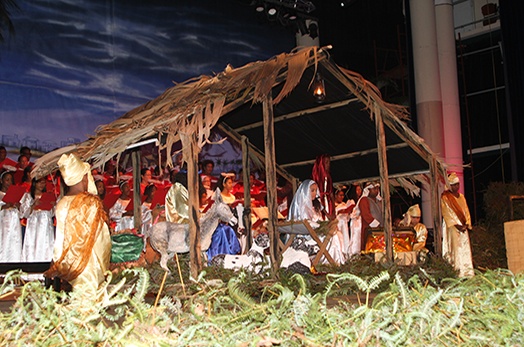 President Faure hosts Christmas show and dinner for children in homes
Fri, 22 December 2017
The Office of the President hosted a Christmas show yesterday evening at the International Conference Centre of Seychelles, comprising of a nativity play, and carols performed by the Music and Choral Society of Seychelles and the Angel's Choir.
The performance was directed by Mr Patrick Victor, featuring children from the Roman Catholic and Anglican church. The choirs were conducted by Mr David André.
Following the event, President Faure hosted a dinner at State House for the children in homes. A total of 80 children from President's Village, Foyer de la Solitude, Foyer de Nazareth, and Foyer de la Providence attended the dinner, which was followed by entertainment and the presentation of Christmas gifts.
Present at the nativity play was the President of the Republic, Mr Danny Faure, Vice-President, Mr Vincent Meriton, President of the Court of Appeal, Justice Francis Macgregor, Designated Minister, Mrs Macsuzy Mondon, Leader of the Opposition, Hon. Wavel Ramkalawan, Leader of Government Business in the National Assembly, Hon. Charles Decommarmond, Cabinet Ministers, Deputy Speaker of the National Assembly, Hon. Nicholas Prea and other distinguished guests.
Invitees to the dinner at State House included the Minister for Family Affairs, Mrs Jeanne Simeon, Principal Secretary for Social Affairs, Mrs Linda William-Melanie, Principal Secretary for Family Affairs, Mrs Marie-Josee Bonne, Members of the organising team, sisters and staff from the homes, and other invited guests.
For full photo gallery please visit the State House Facebook Page:
https://www.facebook.com/StateHouseSey/