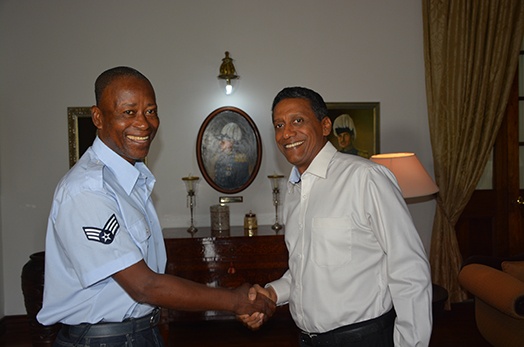 President Faure meets with citizens from district visits
Fri, 22 December 2017
The President of the Republic, Mr Danny Faure, welcomed three citizens he met during his district visits, to State House this morning.
He first met with Mr France Pointe, whom he met during a visit to Victoria Market in July this year. Mr Pointe was accompanied to State House by his sister, Ms Ranalda Pointe, who is now taking care of him.
The President reminded Mr Pointe of their last meeting at the Night Shelter at North East Point in October, where President Faure had promised to see him again before the end of the year.
"2017 was an important year for the both of us, because we formed a profound, inseparable friendship," the President told Mr Pointe. "It is important for us to share this spirit of love and giving of Christmas time, each and every day".
President Faure next met with Mr Ulrick Bonne and Mr Bernard Felicie whom he first met at Glacis and Mont Buxton respectively. Both of them are now settled at a regional home at North East Point. "It is an honour to receive you here at State House today. I see many important people here, and inviting you here is to show how much I value your presence," said the President. President Faure discussed the progress of their treatment with them, and his happiness at seeing them well looked after.
The President also had the opportunity to give Mr Pointe, Mr Bonne, and Mr Felicie Christmas presents, and wish them the best for the new year.
Also present at the meeting this morning was Mrs Linda William-Melanie, and Ms Mirena Souris.
To view more photos visit out Facebook Page:
https://www.facebook.com/StateHouseSey/