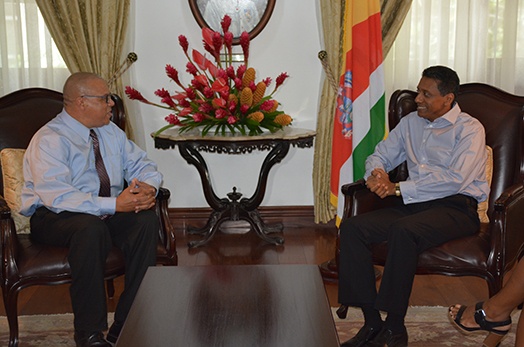 President Faure congratulates Flavien Joubert on publication of new book
Tue, 26 December 2017
The President of the Republic, Mr Danny Faure, received Mr Flavien Joubert at State House this morning, Seychellois author of a new book entitled 'Fish & Seafood recipes of the Seychelles Islands'.
During the meeting, President Faure personally congratulated Mr Joubert on the completion of his latest book project and commended him for reinforcing the importance of value chains in tourism. He mentioned that his contributions with this new publication of recipes can now be used as a tool by people in the industry, students, and general public to promote Seychellois cuisine both locally and internationally.
"We are proud of your achievements, and thank you for your contributions to the tourism and culinary industries. With this new book placing greater emphasis on some of our local fish and seafood, it brings to light innovative ways to integrate our local seafood and Seychellois Creole cuisine. " said President Faure.
Mr Joubert shared his experiences from his longstanding career in tourism, and his fondest memories of the past eleven years. Mr Joubert, who is also the Principal of the Seychelles Tourism Academy (STA), also took the opportunity during the meeting to discuss the future of the Academy with the President, and briefed him on some of the new plans and upcoming projects.
Mr Joubert's book was launched on 12 December this year.