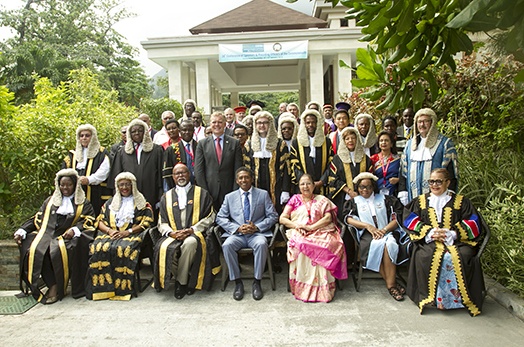 President Faure officially opens 24th Conference of Speakers and Presiding Officers of the Commonwealth
Tue, 09 January 2018
The President of the Republic, Mr Danny Faure, officially opened the 24th Conference of Speakers and Presiding Officers of the Commonwealth (CSPOC) this morning at the Savoy Resort, which has brought together Speakers and Presiding Officers from 52 nations.

The Conference, being held in Seychelles for the first time, brings together the Speakers and Presiding Officers of the national parliaments of the independent sovereign states of the Commonwealth. It focuses on the sharing of experiences, collaboration, and partnership across national parliaments of the Commonwealth. CSPOC was created in 1969.
In his opening address, President Faure welcomed the delegates to Seychelles and expressed his pride that as a Small Island Developing State, Seychelles is hosting the conference. He highlighted the diversity and fundamental unity of all Commonwealth member states, saying: "We are all committed to the values inscribed in the Commonwealth Charter – democracy, human rights, and the rule of law. We are all dedicated to the development of free and democratic societies, and the promotion of peace and prosperity to improve the lives of our people."
The President also expanded on the successful cohabitation in Seychelles, saying: "The Seychelles National Assembly as an essential branch of Government has transformed into an exemplary institution in the region. There are vibrant debates of divergent views, but there is also a new working environment; one where there is dialogue and consultation. And most importantly, mutual respect.
Under the leadership of Honourable Speaker Patrick Pillay, our National Assembly has seen greater transparency, openness and accountability. The sittings are broadcasted live on both television and radio. Through modern technology, citizens are able to directly contact their respective representatives while the debates are taking place, making use of platforms such as WhatsApp and social media. This is permissible by our Speaker. As for the Executive Branch, members of my Cabinet make themselves available to take private members' questions from the Leader of the Opposition, and both urgent and 10 days' notice questions from Members of the National Assembly," said the President.
President Faure also thanked the Secretariat of the Seychelles National Assembly, and the Commonwealth Secretariat, for facilitating the organisation of this conference.
The Conference is an independent group and has no formal affiliation with the Commonwealth Parliamentary Association, the Commonwealth Secretariat or the Commonwealth Heads of Government. CSPOC operates on a two-year cycle, holding a conference of the full membership every two years.
To view the full video of the President's Address, please select any of the below links to either the State House Official Website video gallery, or subscribe to the Office of the President YouTube Channel, or the State House Facebook page.
State House Official Website Video Gallery: http://www.statehouse.gov.sc/video.php?video_id=70
State House Facebook page:https://www.facebook.com/StateHouseSey/