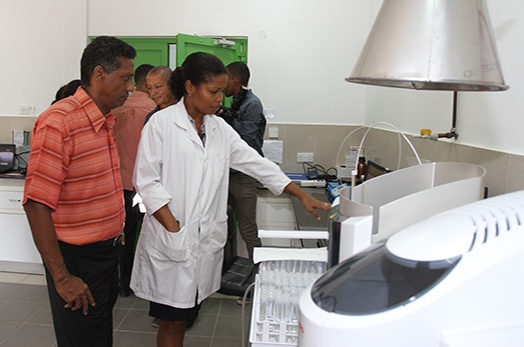 President Faure visits SAA and NBA
Sat, 13 January 2018
Continuing his weekly visits to institutions, President Danny Faure visited the Seychelles Agricultural Agency (SAA) and the National Biosecurity Agency (NBA) yesterday morning.
The President's visit began at the SAA Research and Development Station at Anse Boileau where he visited the Research and Trial site, the administration office, newly proposed site for new offices, and the Requisite Outlet.  During the tour, President Faure had the chance to meet the staff and discuss existing challenges on site.
The delegation then proceeded to Grand Anse, where the President visited the Livestock Services and Pig Genetic Centre, and the Soil and Plant Diagnostics Laboratory.
President Faure also visited other key sections of SAA and NBA offices located at Union Vale, including the Veterinary Services Block under NBA and the Requisite Store Block Plant Protection Section and Agricultural Extension Services for SAA.
Following the site visit, the President attended meetings with both the SAA and NBA management staff where he was briefed of achievements of 2017, and discussed ongoing and future projects for 2018. At the National Biosecurity Agency (NBA) Headquarters at Bel Air, President Faure met with the staff and attended a presentation on the NBA Strategic Plan 2015-2019, which provided a broad overview of targets and projects being implemented. NBA emphasised the role of every citizen to safeguard the country's biosecurity.
The President emphasised that agriculture and food security are critical sectors for Seychelles, and that greater efforts along with all relevant partners are required to further develop and integrate the sector. He commended recent innovative approaches such as the incorporation of technology with farming in Seychelles.  Other priority areas, such as proper infrastructure for some of the sections visited and capacity building, were also discussed.
President Faure commended the SAA and NBA team for the progress made despite the numerous challenges in the sector, and pledged the Government's full support to further developing the sector.
Also present for the visit this morning was Acting-CEO of the Seychelles Agricultural Agency, Mrs Linetta Estico, the CEO of the National Biosecurity Agency, Mr Marc Naiken, Chairperson of SAA, Mr Jayant Maydays, the Vice Chairperson, Mr Jean Alcindor, and management and officials from both SAA and NBA.
For full photo gallery visit our Facebook Page:https://www.facebook.com/StateHouseSey/