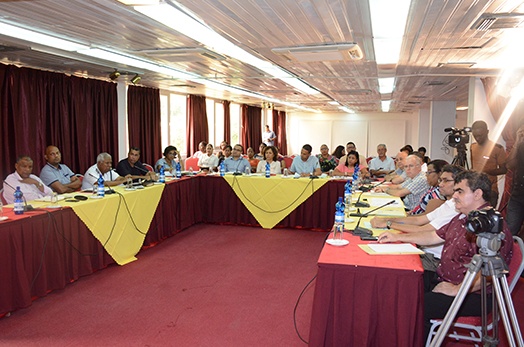 Victoria Forum officially launched
Thu, 01 February 2018
President Danny Faure launched the Committee and the first working session of the Victoria Forum this afternoon, at the International Conference Centre of Seychelles.
The President assured the Committee of his support and said that he appreciates the efforts and ongoing work of the Mayor of Victoria, Mr David André, and his office.
"The Mayor cannot do this work on his own. He needs the support of everyone and that is why this Forum has key representatives from various sectors to help, discuss, and pass on the aspirations of our citizens," said President Faure.
The Victoria Forum has the Mayor of Victoria as Chairman, and members including Principal Secretaries, Chief Executive Officers as well as the Chairperson of Seychelles Chamber of Commerce.
The role and responsibilities of the Forum are to provide high-level advice and input to the Mayor's Office on matters pertaining to the well-being of Victoria. Members of the Forum consist of representatives from the police, environment, tourism, land transport, culture, social affairs, landscape and waste management, licensing, finance among others important sectors.
At its first meeting presided by Mr Faure, the members gave their input on the well-being of Victoria from their respective department or agencies. They also discussed other important issues in respect to the beautification of Victoria.
The initiative to have a Victoria Forum was first presented to Government by the former Mayor, Mrs Jacqueline Moustache-Belle, in July 2013.