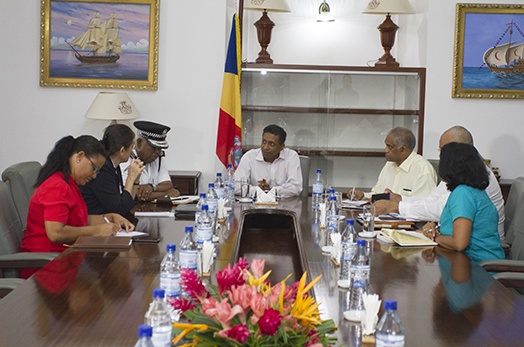 President Faure Chairs Meeting on Four Independent Governance Institutions
Mon, 14 May 2018
President Danny Faure chaired a special meeting this morning at State House, attended by Mr Kishnan Labonte, the Commissioner of Police, Mrs Nichole Tirant-Gerhardi, the Ombudsman, Ms May de Silva, the CEO of the Anticorruption Commission, and Mr Frank Ally, the Attorney General, as part of measures aimed at supporting and strengthening the independence of these institutions.
The Heads of the Institutions briefed the President on the main challenges they currently faced in discharging their responsibilities.  These related principally to the availability of financial and human resources.  They also discussed ways in which greater efficiencies could be achieved by closer collaboration without compromising each other's independence.
It was agreed that capacity building was one of the most important areas to be addressed.  All the institutions reported on the difficulty of recruiting suitably trained and experienced Seychellois for key positions.  The President proposed that priority be given in 2018 for interested Seychellois to pursue specialised studies to enable them to work for these important institutions of good governance.
The President also proposed the setting up of a special Institutional Reform Fund that could be used to support the needs of the various organisations.
The Finance Department would also liaise with the Heads of the Institutions regarding their priority budgetary needs.
It was agreed that Government review the existing legislations proposed concerning the declaration of assets, to make better use of existing resources and mechanisms.  For example, powers of investigation were vested in of the Office of the Ombudsman, the Anticorruption Commission and the Police, and measures to achieve greater synergies should be explored.
Some of the proposed changes could require amendments to the Constitution.
It was also pointed out that public sector organisations should have written documentation on policies and decision-making so that they would be able to provide more satisfactory answers to investigative bodies.  The forthcoming Access to Information Act would emphasise such accountability, and organisations prepare themselves for the requirements of this Act.