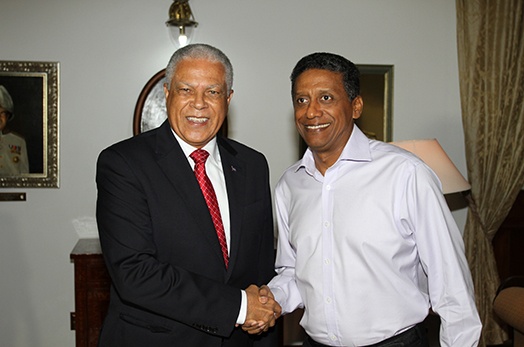 President Faure receives Minister for Tourism and Transport of the Republic of Cabo Verde
Thu, 17 May 2018
The President of the Republic, Mr Danny Faure, received the Minister for Tourism and Transport of the Republic of Cabo Verde, H.E. Mr José Da Silva Gonçalves, for a courtesy call at State House this morning.
Minister Gonçalves is in Seychelles on an official visit to learn from Seychelles' experience in key areas such as the management of Sustainable Tourism and the Blue Economy, as well as explore other possible areas for future cooperation between the two island nations.
President Faure welcomed Minister Gonçalves to Seychelles and highlighted the great potential of the island nations to collaborate. He said that with similar strengths and challenges, despite being located on different sides of the African continent, the two nations have the potential to achieve even greater levels of cooperation in both the bilateral sphere and in reciprocal support, within the different multilateral forums of which they are members.
"Seychelles and Cabo Verde have a lot in common especially in terms of our geography and language. We strongly believe that our bilateral relations can be consolidated and our commitment to work to bring our peoples closer in the near future is unwavering.
We welcome greater engagement with Cabo Verde given the similarities of our islands and the existence of an array of opportunities for mutual growth in fields such as trade, investment, tourism, and fisheries, amongst others" said President Faure.
During discussions, they also exchanged views on evolving local policies contributing to the boosting of the tourism industry. More specifically, they considered the collective effort of Seychelles as a whole to create added value and preserve the uniqueness of the islands for future generations.
Speaking to the press after the meeting with President Faure, Minister Gonçalves described his visit as very successful and beyond his expectations. He said that the way forward now is to translate all the discussions into actions for the benefit of both Seychelles and Cabo Verde.
Also present at State House for the courtesy call was Minister of Tourism, Civil Aviation, Ports and Marine, Mr Didier Dogley.
To view full photo gallery visit the State House Facebook Page:https://www.facebook.com/StateHouseSey/