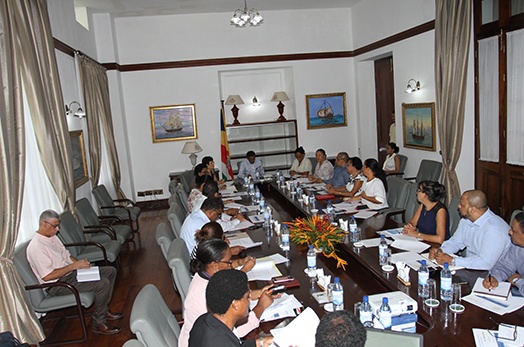 President Faure chairs National Poverty Consensus Forum
Thu, 24 May 2018
The President of the Republic, Mr Danny Faure, chaired the first meeting of the National Poverty Consensus Forum for this year, at State House this morning.
At the meeting, the President thanked the members present and welcomed the new members that have accepted to form part of the Forum.
During the meeting, members of the Forum went over the minutes of the last meeting held on 17th October 2017 and proceeded to discuss matters arising including domestic poverty issues, and the way forward to ameliorate the standards of living of the Seychellois people.
Members of the Forum also viewed a presentation by Principal Policy Analyst in the Office of the Secretary of State for Poverty Alleviation, Mr Ziggy Adam. He proposed a poverty definition for Seychelles and poverty benchmark. Members have been given three weeks to submit their comments and suggestions on the proposal.
There was a second presentation made by the Deputy CEO of NSB, Ms Helena De Letourdis, on the survey results for suspected cases of poverty. The targeted survey was done in the East and South of Mahe. The analysis is still in the preliminary stages and will only be published once the Bureau completes the surveys in other regions.
Members of the Forum present at this morning's meeting included Minister of Family Affairs, Ms Mitcy Larue, Minister for Education and Human Resource Development, Mrs Jeanne Simeon, Minister for Employment, Immigration and Civil Status, Mrs Miriam Telemaque, Minister of Habitat, Lands, Infrastructure and Land Transport, Mrs Pamela Charlette, the Secretary of State for Poverty Alleviation, Amb. Dick Esparon, PS for Community Development, Mrs Marie-Celine Vidot, CEO SNYC, Mr Alvin Laurence, CEO NBS, Ms Laura Ahtime, Deputy CEO NSB, Ms Helena De Letourdis, Economic Advisor to the President, Mr Bertrand Belle, Representing the Minister of Health, Special Advisor Dr Lawrence Reginald, Chairperson SCCI, Mr Oliver Bastienne, Chairperson Bankers' Association, Mr Norman Weber, Chairperson CEPS, Mr Jude Fred, Representative of LDS, Ms Alexia Amesbury, Representative of Parti Lepep, Mrs Giovanna Charles, Media Representative, Ms Patsy Athanase, and Secretary to the Forum, Ms Margaret Pillay.