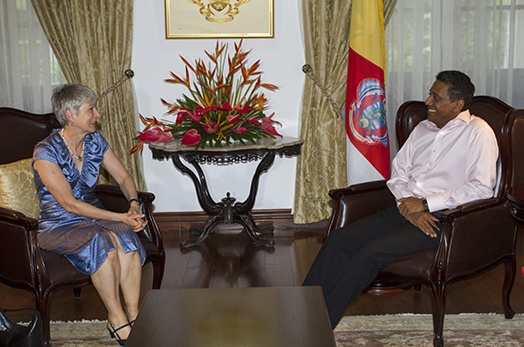 German Ambassador to Seychelles pays Farewell Call on President Faure
Wed, 13 June 2018

The President of the Republic of Seychelles, Mr Danny Faure, received the German Ambassador to Seychelles, Ambassador Jutta Frasch, for a farewell call at State House this afternoon. 

Ambassador Frasch's term as German Ambassador to Seychelles will end in July 2018. Her visit was an opportunity for the President to thank her for her efforts to bolster bilateral ties between Seychelles and Germany during her tenure as Ambassador to Seychelles.

"The Government of Seychelles greatly values the long-standing friendship and partnership that exists between Seychelles and Germany.The state of bilateral relations is excellent and we are confident that this will continue in the coming future with cooperation in other fields of mutual interest. Seychelles is highly appreciative of the strong support that Germany has and continues to provide and we hope that we can continue to count on Germany for support in meeting some of our development aspirations," said President Faure.
During the meeting, Ambassador Frasch shared with the President some of her key achievements during her tenure, particularly in the in the area of tourism where Seychelles has become a very popular destination for German tourists. She also highlighted her success at raising greater awareness at the level of the European Union in understanding the specificities and methods of cooperation with a high income Small Island Developing State like Seychelles, and increasing cooperation in trade and economic relations between the two countries.
This year marks the 41st anniversary since the establishment of diplomatic relations between Seychelles and Germany on 18 January 1977.
Ambassador Frasch was accompanied on her farewell call to State House by the Honorary Consul of Germany in Seychelles, Mrs Kerstin Henri.