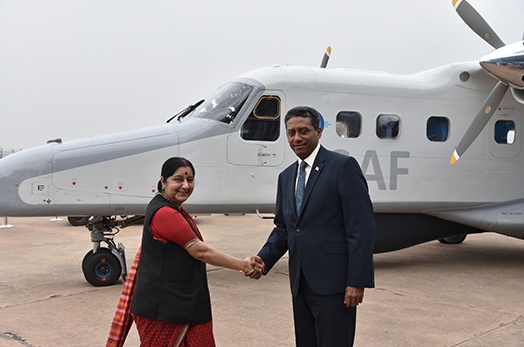 External Affairs Minister for India handed over Dornier Aircraft to President Danny Faure
Tue, 26 June 2018
New Delhi, India, 26th June 2018: The Minister of External Affairs, Mrs Sushma Swaraj handed over the HAL DO-228 aircraft to the Seychelles President Danny Faure, at a ceremony held at the Air Force Station, Palam.
Also present to witness the ceremony was Minister of State in Ministry of External Affairs, General V.K. Singh, Chairman HAL-Hindustan Aeronautics Limited, Mr T. Suvarna Raju, Deputy Chief of Naval staff Indian Navy, Vice Admiral G. Ashok Kumar, CEO HAL, Mr Rajiv Kuman as well as the Seychelles delegation.
The President described the event as an historical day and a proud moment for Seychelles, while he thanked her and the Government of India, which marks yet another milestone of the collaboration between Seychelles and India in the Defense Cooperation, since the two countries established diplomatic ties in 1976.
"This second Dornier will amplify our capacity to conduct maritime surveillance over our extensive Exclusive Economic Zone of 1.4 million square kilometers. It will join the first Dornier 228-202 aircraft which was similarly donated to the Seychelles Air Force in 2013. This first Dornier has been assisting the Seychelles Coast Guard in rescue operation, air surveillance and securing our EEZ," said the President in his speech at the ceremony.
He added, "Shortly, the new Dornier will fly to Seychelles in time to participate in the 42nd anniversary of our Independence. It will be a proud testimony of India's devotion and commitment to the People of Seychelles."
The External Affairs Minister said that India and Seychelles have always been strong security partners and today shows India's devotion to assist Seychelles.
"It is a gift from India ahead of the celebrations to mark the National Day of Seychelles on June 29. I am sure, this aircraft will give a quantum enhancement in maritime reconnaissance and contribute towards keeping the vast EEZ of Seychelles free from maritime threats," she said.
Mrs Swaraj continued, "As maritime neighbours, we are committed to securing our oceanic space for sustained development. Securing our seas will ultimately lead to creating a peaceful environment for the progress and prosperity of our two countries and peoples."
Minister Sushma Swaraj and Seychelles President Danny Faure wave flags as the Seychellois Captain, Donn Du Perez, Lieutenant Julio Hoareau and Lance Corporal Christian Bau fly the Dornier Aircraft to Seychelles.
Editor's Note:
- To view more photos please visit the State House Facebook Page via link below:
https://www.facebook.com/StateHouseSey/photos/a.1796445510423392.1073741862.586396861428269/1796445687090041/?type=3&theater