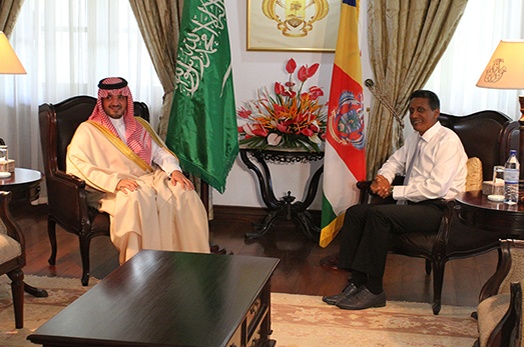 Seychelles President meets with Saudi Arabian Special Envoy
Thu, 05 July 2018
The President of the Republic of Seychelles, Mr Danny Faure received His Royal Highness Prince Abdul Aziz Bin Saud Bin Nayef Bin Abdulaziz Al Saud, the Minister of Interior of the Kingdom of Saudi Arabia as well as Special Envoy of H.R.H Prince Mohammad bin Salman Bin Abdulaziz Al Saud, Crown Prince of the Kingdom of Saudi Arabia, at State House this afternoon.
President Faure and His Royal Highness discussed state affairs in a tête-à-tête meeting, whereby the President welcomed him and his delegation to Seychelles on this official visit.
The Head of State reaffirmed the excellent relations that exist between the two countries since Seychelles and the Kingdom of Saudi Arabia established diplomatic relations on 28th September 2000. He hoped that this visit will do much to further enhance cooperation between the two countries.
His Royal Highness was accompanied by Deputy Minister for Technology, H.H. Prince, Dr. Bandar bin Abdullah Al Moshari, Advisor at the Council of Minister's General Secretariat, H.E. Mr. Ahmed bin Aqueel Alkhateeb, Assistant Minister for Security Affairs, H.E. Mr. Mohammed bin Muhanna Almuhanna, General Director of the Minister's Office for Research and Studies, Major General Khalid bin Ibrahim Alarwan, Advisor to the Minister of Interior, Mr. Raid bin Abdullah Alahmed, Supervisor General of the Minister's Office, Mr. Fahad bin Khalid Aldhoyan, General Director of Legal Affairs, Dr. Issa bin Abdulrahman Alissa, General Secretary of the Advisors Unit, Brigadier Ibrahim bin Abdullah Aldawod and Director of International Cooperation and Protocol, Mr. Fahad bin Bader Alhoqail.