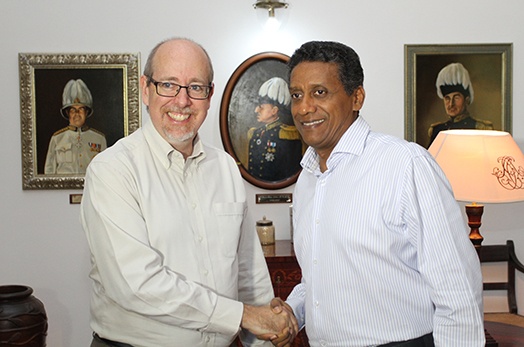 High Commissioner of Canada to Seychelles bids Farewell
Tue, 10 July 2018
The President of the Republic, President Danny Faure received the High Commissioner of Canada to Seychelles, H.E. Mr Ian Myles for a farewell call at State House this afternoon.
President Faure extended a warm welcome to High Commissioner Myles on his farewell visit and thanked him for his exceptional contributions in strengthening the diplomatic ties between Seychelles and Canada. The President also expressed the appreciation and gratitude of Seychelles for the continued support and assistance provided by Canada both on a bilateral and multilateral level.
"Over the years, the relationship between Seychelles and Canada has flourished, culminating into close engagements across different sectors . We hope that the friendly ties between our two governments can be further consolidated and I am certain that your successor will work with the same enthusiasm to further cement the solid bilateral bonds we have enjoyed over the past decades" said President Faure.
The meeting was also an opportunity for the President to brief High Commissioner Myles on his recent encounters with the Canadian Prime Minister, Mr. Justin Trudeau and Seychelles' participation as a Small Island Developing State at the G7 Summit held in Québec, Canada last month.
Speaking to the press after the meeting, High Commissioner Myles highlighted that despite the vast distance and size between Canada and Seychelles, the two countries has many values in common and common interests at an international level and will henceforth continue working together particularly through the various International platforms such as Francophonie and the Commonwealth for the advancement of global issues such as ocean management, maritime security, human rights, fight against drug trafficking and other potential areas of cooperation.
Diplomatic relations between Canada and Seychelles were established on June 29th, 1976.