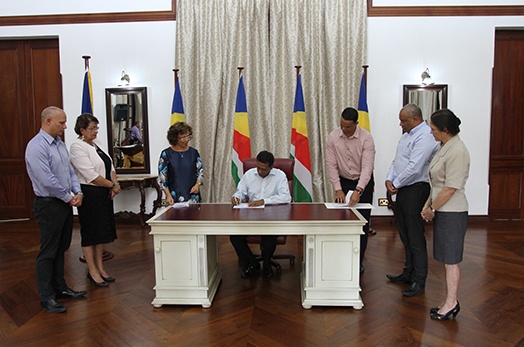 The President Assents to the Seychelles Human Rights Commission Act 2018
Thu, 09 August 2018
The President of the Republic, Mr Danny Faure today assented to the Seychelles Human Rights Commission Act 2018. The Bill was considered and approved by the National Assembly on 5th June this year.
The Seychelles Human Rights Commission which will operate independently of the Office of the Ombudsman, will serve to strengthen the framework for the protection of human rights.
The Law will reinforce the principles found in the Constitution and will also ensure that the institutions are in line with the Paris Principles.
"The reinforcement of this institution is very much in line with the priorities that President Danny Faure outlined to emphasize transparency and to give recourse to every citizen, no matter their background or their capacity. To be able to have their rights enforced throughout their lives, to have the support necessary, to have redress where they feel their right has been disrespected," said the Minister of Health, Mr Jean-Paul Adam, who also presented the Bill to the National Assembly on behalf of the government.
A new Commission which will comprise of a Chairperson, a deputy chairperson and 3 members will now be appointed.  The law which will reinforce the role of the Commissioners will also provide them with more powers when investigating cases.
Also present at the ceremony was the Designated Minister Macsuzy Mondon; the Attorney General, Mr Frank Ally; the Ombudsman, Mrs Nichole Tirant-Ghérardi; the Chairperson of the Constitutional Appointments Authority, Mr Michel Felix and the Chairperson of CEPS, Mr Jude Fred.