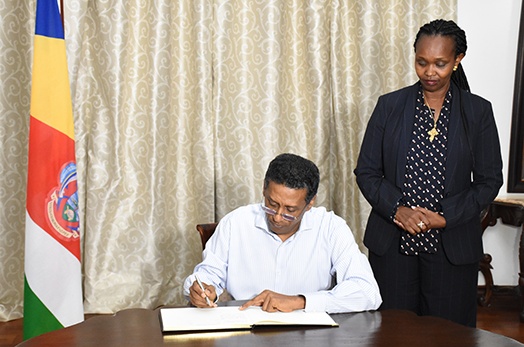 President Faure receives UN Resident Coordinator and UNDP Resident Representative
Fri, 31 August 2018
President Danny Faure received UN Resident Coordinator and UNDP Resident Representative for Mauritius and Seychelles, Ms Christine N. Umutoni, at State House today. Ms Umutoni and her delegation are on an official visit to Seychelles.
The President welcomed Ms Umutoni and her delegation, and expressed his gratitude for all the support that the UNDP teams in Seychelles and Mauritius have given to the country. He also thanked her for her excellent leadership.
The focus of discussion between the President and Ms Umutoni was the first Seychelles Strategic Partnership Framework for the 2019-2023 period, which was signed today between United Nations (UN) and the Government of Seychelles. The agreement is a collective, coherent and integrated response by the United Nations System, aligned with Seychelles' national development priorities.
Ms Umutoni also briefed President Faure on the work that the UN is doing in various fields including the support they are providing to Seychelles in areas such as in capacity building, policy-making, and technical support. She also commended Seychelles for achieving the Millennium Development Goals (MDGs) and in its robust efforts in attaining the Sustainable Development Goals (SDGs).
After the meeting, Ms Umutoni witnessed the President signing the book of condolences following the demise of the former United Nations Secretary General, Mr Kofi Annan.
Also present at the meeting was the UN Coordination Analyst, Ms Doorgawatee Ram Gopal, UNAIDS Representative, Mr Jude Padayachy, UNFPA Representative, Mr Serge Boundna, UNDSS Security Advisor, Mr Abdoulaye Barry, DFA Director General, Ms Amenda Padayachy and DFA Third Secretary, Ms Patricia Marie.