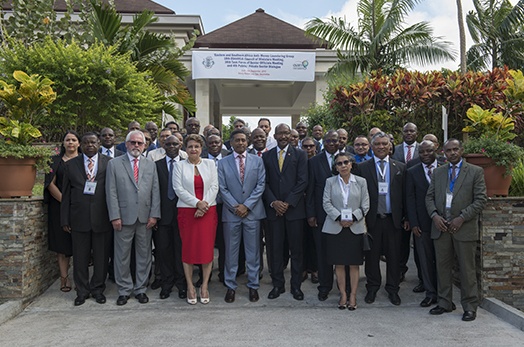 President Faure attends official opening of 18th ESAAMLG Council of Ministers Meeting
Fri, 07 September 2018
President Danny Faure attended the official opening of the 18th Council of Ministers Meeting of the Eastern and Southern African Anti-Money Laundering Group (ESAAMLG), and the 36th Meeting of the Task Force of Senior Officials, at the Savoy Resort this morning. The event is being held in Seychelles on 7 and 8 September 2018.
The purpose of the ESAAMLG is to combat money laundering by implementing recommendations from the international policy-making body, Financial Action Task Force (FATF). The effort includes cooperation and capacity building among member nations.
At the opening ceremony Seychelles, represented by the Minister for Finance, Trade, Investment and Economic Planning, Mr Maurice Loustau-Lalanne, took over the presidency of the ESAAMLG from Tanzania, represented by the Tanzanian Minister of Finance and Planning, Hon. Dr Philip Mpango.
The event, which is being hosted by the Government of Seychelles, will see the participation of Finance Ministers from Eastern and Southern Africa and 400 other delegates.
Vice-President Vincent Meriton delivered the opening remarks, saying, "In order for our countries to ensure the economic and social development of our people, it is critical that we continue to cooperate to combat the crimes of money laundering. It is important that as we develop effective systems for preventing and combating money laundering, we do not leave any of our jurisdictions behind. We are as strong as our weakest link."
Vice-President Meriton also reaffirmed the full commitment of the Government of the Republic of Seychelles to implement the recommendations made in the ESAAMLG Report in order to comply with the FATF standards. He urged all member countries to come together and strengthen ESAAMLG so that it delivers on its mandate in promoting cooperation in the region in combating money laundering and the financing of terrorism.
Also present at the official opening Ceremony this morning was the Designated Minister, Mrs Macsuzy Mondon; the Leader of Government Business in the National Assembly, Honourable Charles Decomarmond; Secretary of State for Foreign Affairs, Ambassador Barry Faure; Secretary of State for Finance, Mr Patrick Payet; Members of the Diplomatic Corps; Governor of the Central Bank of Seychelles, Ms Caroline Abel; and other distinguished guests.
For more photos visit the State House Facebook Page:
https://web.facebook.com/StateHouseSey/photos/pcb.1910970365637572/1910969605637648/?type=3&theater