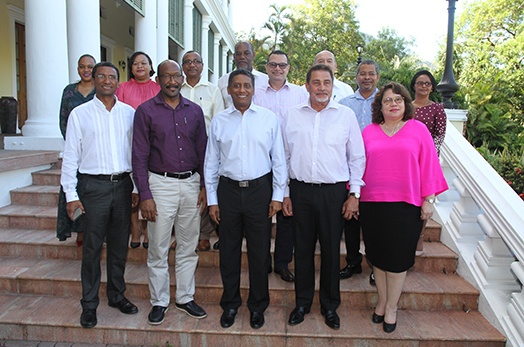 President Faure meets with Seychelles Ambassadors
Thu, 04 October 2018
President Danny Faure met with Seychelles Ambassadors at a meeting held at State House yesterday.
During the meeting, the President congratulated the Department of Foreign Affairs for incorporating key strategic goals of the government into their Strategic Plan 2020. This includes foreign policy that helps alleviate pockets of poverty, transparency, good governance, accountability, and national unity.
"I congratulate the Department for having crafted its Strategic Plan and for having embarked fully into its implementation. I am conscious of the challenges that have surfaced and I am committed to provide you with the necessary support. I am aware that you are now working on the operational plans to bring this Strategic Plan 2020 to fruition. This is a necessary process," said the President.
He emphasised the need for all Ambassadors to maintain regular reporting, and quick communication despite the different time zones.
The President thanked the ambassadors for their contributions and for their hard work. He said, "Do your best for Seychelles. Fight for Seychelles. Above all, remember to put the people at the centre of our development. This spirit and frame of mind should drive us to work towards the realization of our goals as a nation."
The ambassadors briefed the President on their activities abroad, the diplomatic convention held over the weekend, and the ambassadors' retreat, which included district visits and meetings with local officials and the community.
Also present during the meeting was Vice President Vincent Meriton, responsible for the Department of Foreign Affairs, Secretary of State for Foreign Affairs Ambassador Barry Faure, and Ambassador Selby Pillay.