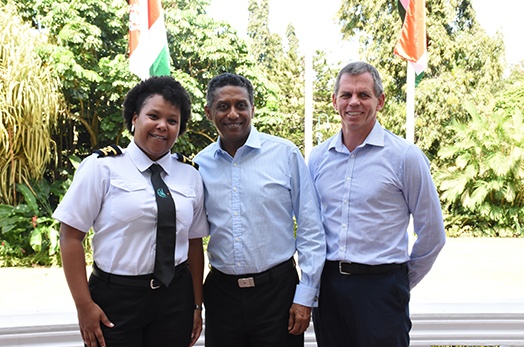 President Faure meets First Female Second Officer onboard Seychelles Tankers
Fri, 05 October 2018
The President of the Republic of Seychelles, Mr Danny Faure, received the first female Seychellois appointed as Second Officer by Seychelles Petroleum Company Limited (SEYPEC) at State House today.
Ms Vanessa Thomas was recruited, trained, and employed by the national petroleum company and rose through the ranks to acquire the necessary sea-time and academic studies to become a Second Officer.
President Faure congratulated her on the achievement and wished her success in the work ahead. He encouraged her to continue working hard and to become the first female Captain on board SEYPEC tankers. This he said, should be an inspiration to other young female Seychellois who wish to pursue a career in the maritime sector.
"I would like to congratulate you and express our sincere appreciation for your hard work and dedication. Your achievement today should be an example to young women around the country. This not only signifies the accomplishment of your dreams but it is also an accomplishment for our country, we are proud of you," said President Faure.
During the meeting with the President, Ms Thomas shared her journey thus far and her experience on board the tankers, as well as her plans for the future.
Ms Thomas is 27 years of age from Ma Constance. After completing her A Level studies in 2011, she joined the shipping industry as a Deck Cadet on Oil Product tanker, Seychelles Paradise. After 18 months, she became an Officer of the Watch on Merchant Vessels. In 2013, through the Agency for National Human Resource Development (ANHRD),  she went on a one year course at VELS University, Chennai, India, for a Higher National Diploma (HND) in Nautical Sciences Graded Unit 1 Phase 1.
She then later pursued her HND in Nautical Science Graded Unit 2 and 3, phase 2, at the City of Glasgow Nautical College in Scotland, United Kingdom. In 2017, after completion of her sea time, she went back to the College in Glasgow for her course phase 4 and 5 to become a Second Officer.
Ms Thomas was accompanied on her visit to State House by Mr Paul Mondon from SEYPEC.