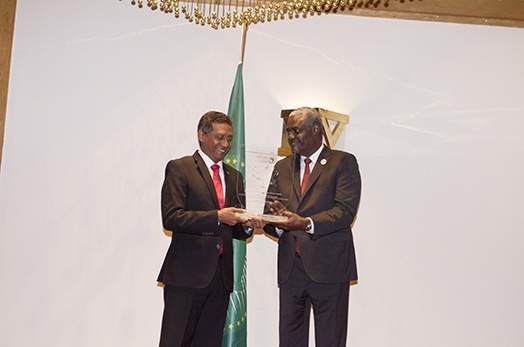 President Danny Faure receives the Blue Economy Award on African Maritime Sectors
Wed, 28 November 2018
Nairobi, Kenya: Seychelles President Danny Faure was given the 'Blue Economy Award on African Maritime Sectors' at a banquet hosted by the African Union Commission (AUC) yesterday evening. The banquet was in honour of Heads of States, government officials and delegates attending the Conference, held at the InterContinental Hotel.
In his acceptance speech, President Faure said, "This award recognizes Seychelles as a champion of the blue economy in the maritime sector, across the African continent and around the world. I would like to thank the AU Commissioner for giving me this award. I would also like to thank our partners whose support is critical, such as the UN, the World Bank, the European Union, the Commonwealth, the Indian Ocean Rim Association (IORA) and the Indian Ocean Commission (IOC), who have supported Seychelles in one way or another and helped us firmly secure the Blue Economy on Africa's Development Agenda."
The President also commended the African Shipowners Association and its Secretary General Mrs Fumni Folorunsi for her work, and noted that he is looking forward to the first investment forum for the Pan-African Shipping Line that will be hosted in Seychelles in March next year.
In ending, President Faure said, "I dedicate this award to all my brothers and sisters of my continent – Africa, and to the hardworking and committed fellow citizens of my beloved country – Seychelles."
The awards was presented by the Chairman of the African Union Commission, Mr Moussa Fakki, in three categories to recognise countries, associations and individuals who have made significant contributions towards Africa's Blue Economy Agenda. Other beneficiaries of awards included the President of Kenya, Mr Uhuru Kenyatta, President of Togo, Mr Faure Gnassingbé, and the Prime Minister of Mauritius, Mr Pravind Jugnauth.