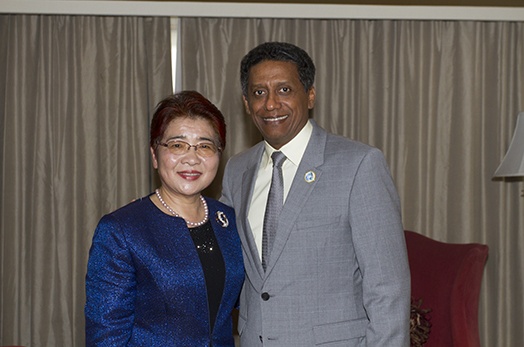 President Faure meets with high level representative of the People's Republic of China
Wed, 28 November 2018
Nairobi, Kenya: Seychelles and China are set to boost their cooperation in the area of the Blue Economy, following a meeting between President Danny Faure and the Chinese Minister Counsellor, Deputy Chief Mission, Mrs Li Xuhang.
As the newly elected Blue Economy Champion in Africa, President Faure expressed his wish for China to continue supporting the development taking place in Africa and remain a strategic partner as Africa develops its economic potential. He noted that the partnership with China is crucial for the achievement of economic prosperity that is required for Africa to emerge as a strong continent.
The Head of State and Mrs Li Xuhang discussed other areas of mutual interest and updates on bilateral meetings held during the 2018 Beijing Summit of the Forum on China-Africa Cooperation (FOCAC), which President Faure attended in September. They addressed the Memoranda of Understanding signed during the President's visit to China, and the ongoing projects that China is supporting in Seychelles.
On her part, Mrs Li Xuhang commended President Faure and the Government of Seychelles for the commitment shown in developing the Blue Economy and for his personal interest to bring international cooperation to new heights. She underlined that marine cooperation and blue economy are the new frontiers of bilateral cooperation with Seychelles and noted that China will strengthen their cooperation in those areas.
Both President Faure and H.E. Mrs Li reaffirmed their commitment to take the friendship between Seychelles and China to new heights and develop further the China-African cooperation.