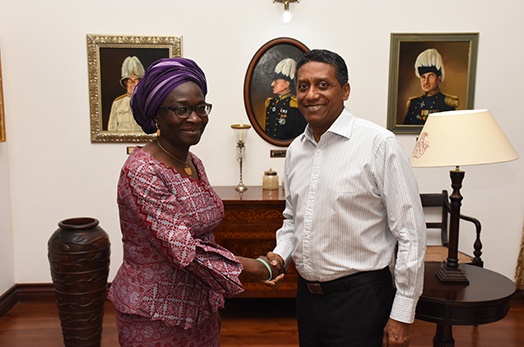 Seychelles and ILO to further strengthen partnership
Fri, 30 November 2018
President Danny Faure received the Assistant Director General and Regional Director of the International Labour Organisation (ILO) for Africa, Mrs Cynthia Samuel-Olonjuwon, at State House this morning.
The President welcomed Mrs Samuel-Olonjuwon to Seychelles and conveyed his gratitude to ILO for its consistent support and technical assistance given on various projects. The President noted that the Government of Seychelles values the partnership with ILO and expressed his wish that her visit will further strengthen the cooperation that already exists between Seychelles and ILO.
The Head of State and Mrs Samuel-Olonjuwon discussed various issues related to Seychelles' labour sector such as the existing workforce in Seychelles, the need for specialised capacity building in certain areas, and the urgent need for greater synergy between labour demands of the country, the education system and the private sector.
On her part, Mrs Samuel-Olonjuwon commended Seychelles for achieving gender parity in its Cabinet of Ministers. She also congratulated the Government for Seychelles' consistent economic growth and suggested areas where she feels Seychelles could improve as well as how to consolidate their partnership.
Also present at the meeting was the Principal Secretary of the Employment Department, Mr Jules Baker.